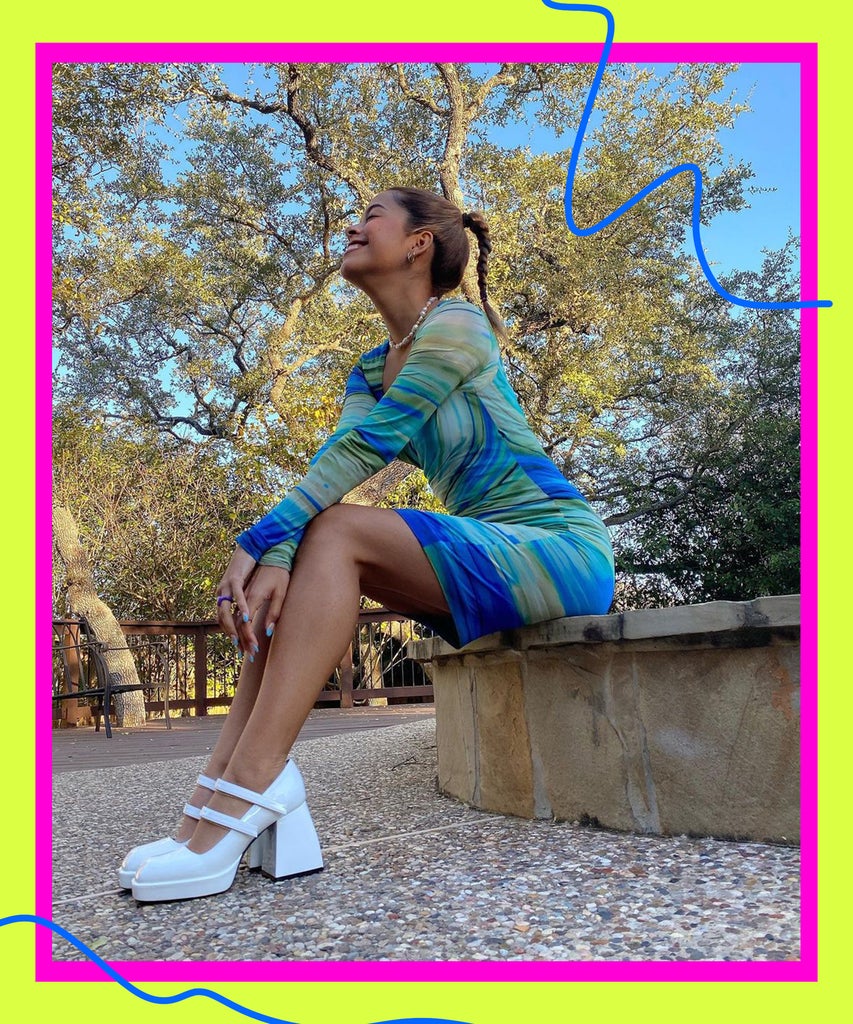 On Tuesday, the United States' CDC announced that fully vaccinated people can go without a mask when in small groups and outdoors, which Mike Saag, MD, told The Associated Press is a sign of "us being able to do normal activities again." For some, that means dressing up. After spending more than a year holed up on the sofa, we've all but forgotten how to put together an outfit for occasions that don't take place on Zoom. But, with Tuesday's announcement, the prospect of a real night out — and in turn, the need for a good going-out outfit — is nearing.
Some people have their looks ready to go.
"I've been planning outfits ever since I got my first shot and scheduled my second one," Bustle fashion editor Jessica Andrews tells Refinery29. For Andrews, her debut outfit — a slip dress paired with secondhand Gucci sandals and a J.W. Pei cross-body bag — is all about "ripping the Band-Aid off" and going all out. "I'm happy to leave behind my sweatpants," she says.
Michaela Felix, a marketing executive at Fohr has also missed getting dressed up. "The pandemic reminded me that I am allowed to dress to suit my personality at any given time and express myself to the fullest," Felix says. "I'm excited to show the world that newfound comfort in my style." In the last year, New York-based publicist Taylor Jannotte also had a chance to discover the importance of self-expression. "Before the pandemic, I could always count on my personal style to make me feel like the best version of me," Jannotte tells Refinery29. When she lost her job, and subsequently the need to dress up, she began to feel "unidentifiable." "It opened my eyes to how much my sense of self is tied to my personal style," she says. Now that she's fully vaccinated, Jannotte says that she's ready to get back to feeling like herself again.
As a result, both women are taking sartorial risks. For Jannotte, that means showing off the zebra-print, sequin mini skirt she bought during quarantine. Felix says she'll be opting for bright colours and monochrome looks that she might not have experimented with before lockdown — an orange, mini slip dress with matching sunglasses.
TikTok star Remi Bader, who's known for her realistic plus-size clothing hauls, is also adding brighter and more vibrant colours to her wardrobe: "I am ready to bring color back into my life," she tells Refinery29. Specifically, she says that she wants to invest in colourful shoulder bags and heels for the summer. Duda Teixeria, the co-founder of Instagram's favorite jewellery brand Éliou, wants to amp up the drama in her wardrobe. "I will be going for 'the more the merrier,' 'the bigger the better' philosophy when it comes to getting dressed," she tells Refinery29. "For all the days I stayed in and the events I missed, I will make up for them in feather count, and channelling Diana Ross at the 1981 Met Gala in the process." To her own surprise, she also wants to wear heels.
She's not the only one. Prior to the pandemic, heels appeared to be on their way out. After spending the last year in slippers and trainers, though, even the most comfort-loving people have begun to miss their fancy shoes. "I am wearing heels literally everywhere I go post-vaccine," says Andrews. Cara Zimmerman, a New York-based publicist, agrees: "I've missed oversized pantsuits and heels — such a powerful look."
Does this mean workwear is returning, too? "I've missed wearing a blazer for no reason — I've missed clothing with sculpted shoulders," says Kari Fry, the founder of fashion brand Subsurface. Luckily, power shoulders promise to be a major trend for spring and summer, with designers like Rick Owens, Isabel Marant, Givenchy, and Balenciaga all adding extra padding to the shoulder silhouettes in their spring '21 collections. But maybe don't expect full suits. According to Fry, she will pair her blazers with delicate bras, skirts, and jeans. "All I want to wear in public is a fancy bra," she says. "It's the summer of wearing bras in public!"
Tori Lopez, a fashion assistant at W, can't wait to wear summer dresses. "I'm a big dress girl, so I've really missed wearing those special dresses that make you feel like a 10/10," she says. When the day comes, she says she'll be wearing a yellow Moschino dress that she picked up at James Veloria, a vintage shop in New York: "The dress has these very flattering cutouts one either side of the waist that make me feel hot!" It is now patiently awaiting its debut into the world. Why hasn't she worn it? "Wearing something like this at home just feels a bit silly," she says.
She has a point. For the most part, there was nothing stopping us from getting dressed up in lockdown. In fact, some people did. "I dress up in my room regardless even if I have nowhere to go," says Bader. But while she acknowledges that it's been fun to play dress-up at home, she's more looking forward to putting on an outfit for people to see in real life. "I am simply excited to get dressed up again for an actual purpose other than for filming videos in my room," she says.
Like what you see? How about some more R29 goodness, right here?
Ewan McGregor To Play A Fashion Icon In "Halston"
Forget Cottagecore, Fashion's Hitting The Seaside