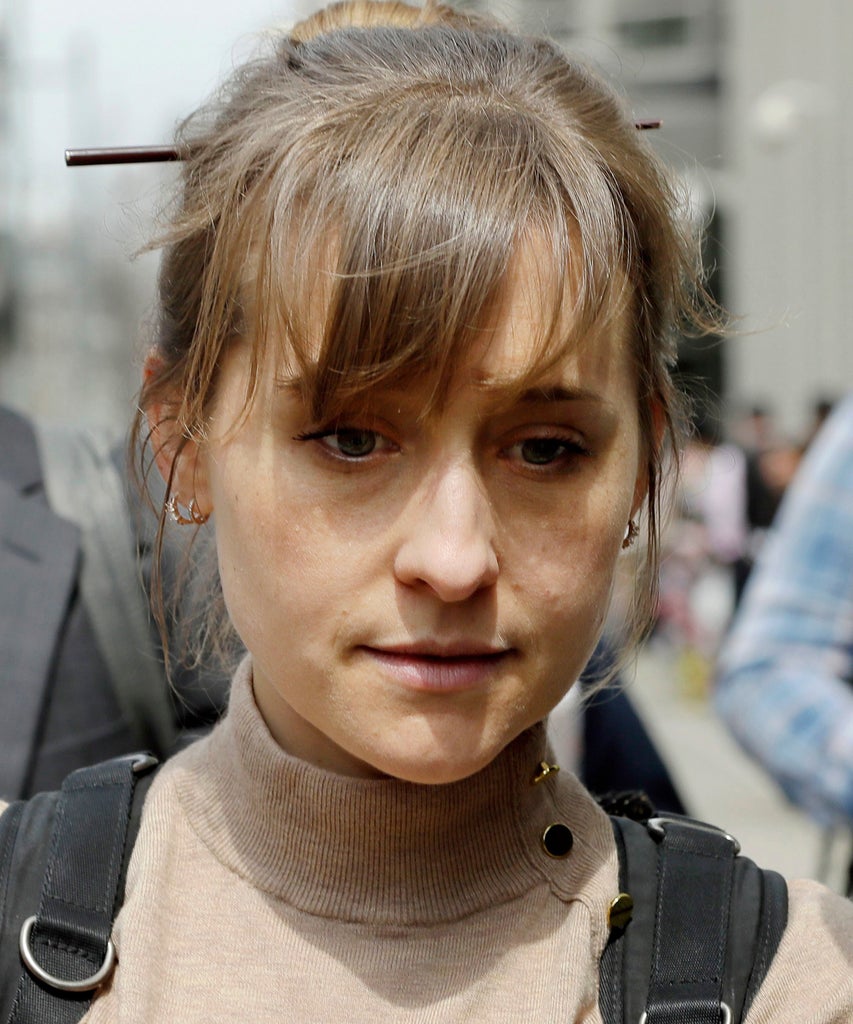 In 2020, the HBO documentary Seduced: Inside The NXIVM Cult laid bare the inner-workings of NXIVM, a multi-level marketing company-turned-cult where high-ranking members engaged in sex trafficking, forced labour, and racketeering. Among them was 38-year-old actress Allison Mack, best known for her appearance on the television show Smallville and the 1997 movie Honey We Shrunk Ourselves. In April 2019, Mack pled guilty to one count of racketeering and one count of racketeering conspiracy and is now — finally — expressing remorse for her involvement in the cult. Mack's statements of "regret" come just days after she provided prosecutors with details of the group's infamous branding ceremonies, which Mack often allegedly led under the guidance of NXIVM founder Keith Raniere.
"It is now of paramount importance for me to say, from the bottom of my heart, I am sorry," Mack said in a written statement submitted to the court and obtained by The Hollywood Reporter. "I threw myself into the teachings of Keith Raniere with everything I had. I believed, whole-heartedly, that his mentorship was leading me to be a better, more enlightened version of myself. I devoted my loyalty, my resources, and, ultimately, my life to him. This was the biggest mistake and regret of my life."
For his part, Raniere was found guilty of federal sex trafficking, extortion, obstruction, and racketeering charges in June 2019, and in October 2020 was sentenced to 120 years in prison. Mack, meanwhile, is accused of "recruiting" members into NXIVM, then grooming them to join an all-woman "secret society" within the cult, where the women would become "slaves" for the cult's "masters." The "masters" would then force the "slaves" to have sex with Raniere after undergoing a branding ceremony and providing Mack and other leaders with "collateral," which they used to blackmail members into staying.
One alleged victim by the name Nicole testified that while she was a struggling and aspiring actress living in New York City, Mack had brought her to Albany, NY to be close to NXIVM's campus. Nicole said that Mack later ordered her to stop "hooking up" with an ex-boyfriend and be celibate for three months, according to a report from The New York Times. Mack then allegedly told Nicole to "be a good slave" before going to Raniere's home, where Nicole claimed that Raniere blindfolded her, demanded she take off her clothes, then tied her ankles and wrists to a table before performing oral sex on her.
Nicole also testified that Mack's so-called "mentorship" was really just "a plot to get me up here for Keith," according to the same Times report. "I was already stuck," Nicole said. "I wanted to believe her." According to Nicole's testimony, Mack told her joining NXIVM would "fix how I'm feeling," and in order to join, Nicole had to provide collateral in the form of a solo sex tape and a letter falsely accusing her father of sexually assaulting her.
"I am sorry to those of you that I brought into NXIVM. I am sorry I ever exposed you to the nefarious and emotionally abusive schemes of a twisted man. I am sorry that I encouraged you to use your resources to participate in something that was ultimately so ugly. I do not take lightly the responsibility I have in the lives of those I love and I feel a heavyweight of guilt for having misused your trust, leading you down a negative path," Mack wrote in her apology letter.
Since her arrest, Mack has remained fairly quiet, despite hoards of former NXIVM members and survivors coming forward and describing her abuse in full detail. "I tend to believe any woman, be it from NXIVM or not, would feel too light a sentence for Allison might somehow normalise or condone women abusing other women," former NXIVM member Ivy Nevares told The Daily Beast last week.
Mack's apology conveniently comes just days before her sentencing hearing on June 30; she currently faces 15 years to life in prison, while her lawyers continue to suggest that she receive no jail time, citing her guilty plea, her cooperation with the investigation, her decision to publicly denounce Raniere and NXIVM, and her regret.
"There is thus no need to impose an additional sentence of incarceration on Ms. Mack to achieve specific deterrence," her attorneys argued in a statement also submitted to the court ahead of her sentencing hearing.
Survivors disagree, citing the pain they — and others — endured at the hands of Mack as reason enough to hold her accountable. "Indirectly and directly, [Mack] made scores of women suffer," one former member told The Daily Beast. "It would be really sad to see her get away with it because she saved her own skin."
Like what you see? How about some more R29 goodness, right here?
Keith Raniere Gets Life Sentence For NXIVM Cult
NXIVM Sex Cult Leader Found Guilty