Welcome to Money Diaries where we are tackling the ever-present taboo that is money. We're asking real people how they spend their hard-earned money during a seven-day period — and we're tracking every last dollar.
Are you a millennial or zoomer that's purchased a home in the last five years? Do you love it? Do you hate it? Is it a mixed bag? We'd love to hear from you! Fill out this form and tell us about your home for a story on Refinery29.
Today: a consulting manager who has a joint income of $115,000 (£83,500) per year and spends some of her money this week on soba noodles.
Editor's Note: All currency has been converted to USD and GBP.
Occupation: Manager
Industry: Science Consulting
Age: 28
Location: Tokyo, Japan
Salary: $115,000 (£83,500)
Net Worth: $18,000/£13,080 (Savings: $7,000/£5,090, Investment (shares): $20,000/£14,530, minus debt. (I am married and my husband does not work. We share my income and pay all bills, debt, etc. using my sole salary.))
Debt: $9,000 (£6,540)
Paycheck Amount (1x/month): $7,700 (£5,520)
Pronouns: She/her
Monthly Expenses
Rent: $2,100 (£1,525)
Spotify: $20 (£14.50)
Netflix: $15 (£10.90)
Utilities: $224 (£162)
Savings: $1,000 (£762.50)
Was there an expectation for you to attend higher education? Did you participate in any form of higher education? If yes, how did you pay for it?
Certainly, attending higher education was the only option for me. I studied at a university in Madrid (I am Spanish) where luckily higher education is not as expensive as in the U.S. I went to a private university, which has an annual cost of $14,000 (£10,170) per year (or $56,000/£40,680) for the four years of the degree). I also did my master's degree in Madrid, but this was a public programme and we benefitted from a "large family" discount. The total cost was less than $1,000 (£762.50) for the full year. My parents paid for my full education.
Growing up, what kind of conversations did you have about money? Did your parent/guardian(s) educate you about finances?
I was very privileged growing up. My dad was a partner at a large consulting firm and my mum stayed at home. We lived in a big house in Madrid and had more than enough for necessities and things we wanted. Both my parents are over-spenders and I grew up seeing my dad upgrade his (often luxury) car every few years. My mum went (and still goes) shopping pretty much every week. I developed a habit of mindless spending, and by 25, had serious credit card debt. Although my parents have talked to me a few times about my spending habits, they've never seriously addressed it. It was only after my husband and I moved to Tokyo that I became financially stable. My husband quit his job to support me and we've been living off my salary for the last two years. As part of this process, my husband has been amazing at re-educating my spending habits. Now I feel like I'm finally becoming a financially healthy person.
What was your first job and why did you get it?
I got an internship at a consulting firm when I was in my third year of university mainly out of the fear that I would not be able to get a good job after university without the experience.
Did you worry about money growing up?
No, money has never been a worry.
Do you worry about money now?
I now worry about finances only in the sense that over-spending gives me anxiety, as I see it as wasteful. The first years after university, I would spend more than my salary, which led me to have over $10,000 (£7,625) in credit card debt. I have now paid it off and make a huge effort to find a good balance between spending smartly while still allowing myself treats every once in a while.
At what age did you become financially responsible for yourself and do you have a financial safety net?
At 23 (right after I finished my master's degree), I stopped asking my parents for money but still lived with them. At 24, I moved in with my now-husband and stopped relying on my parents financially. They paid for a large part of my wedding and my mum helped us with expenses when we moved to Tokyo two years ago, which I'm still paying back to her.
Do you or have you ever received passive or inherited income? If yes, please explain.
My parents gave me an allowance until I got my first job (around $500/£435 per month). My husband gets around $1,000 (£762.50) every year from his grandmother.
Day One
8 a.m. — I wake up and do a 10-minute workout. I hate going to the gym but have been doing 5- to 10-minute workouts every morning for the last year, which I really enjoy. I shower and do my morning skincare routine, which is super low-key lately: Japanese lotion for hydration, The Ordinary Niacinamide, The Ordinary Natural Moisturizing Factors, and some Japanese SPF. I love Japanese skincare brands as I find there's a lot of high-quality products that are not too expensive. I commute in the sweltering heat of Japanese summer, cursing the masses of people in the metro. I need to top off my metro card and add $45. $45 (£32.70)
10:11 a.m. — My office is on a high floor so I can see Mount Fuji from the window. I love making myself a cup of coffee while looking out the window, it's a lovely way to start my Monday. After replying to e-mails and having my weekly team call, I buy some breakfast from the office dispensing machine. $0.90 (£0.65)
2:34 p.m. — The day has been just the right amount of slow. My workload is usually quite heavy, so I love Mondays where people are catching up with their own work and not reaching out to me. I usually spend my days reviewing work and helping in my direct reports' development. I genuinely love consulting, especially at my firm where our partners make a huge effort to ensure we're happy. I have a simple homemade lunch — tomato with corn, tuna, and white asparagus. My husband usually cooks for me (he's an amazing cook!) but when he's not able to I have to make do myself. I'm terrible in the kitchen so I tend to resort to simple salads. My husband texts me to tell me he's paid for Japanese lessons for the next four weeks. He has classes twice a week with an amazing teacher and his Japanese is at a point where he can hold his own in a conversation. $217 (£157)
7:30 p.m. — I get off work and decide to walk half of the commute home. I take advantage of the commute to send a voice note to my best friend. We met in high school and she lives in Lisbon, so a big part of our friendship has been long-distance. I love telling her about my day and her long voice notes make my mornings! As I get home, I stop by the drug store to buy some ice cream for later. $1.20 (£0.87)
8.34 p.m. — I have dinner with my husband while watching cooking videos on YouTube. Despite my lack of cooking skills, I love food and watching people cook. He goes grocery shopping on Mondays ($73.95/£53.72), which last all week. Tonight, he made vichyssoise (had to Google that) and we have ice cream for dessert. I check out a book my boss has recommended on Amazon and decide to buy it ($14.90/£10.82). I love to read and have tried to limit my book purchases lately, as I have quite a backlog of unread books at home… I read and my husband and I go to sleep at around 11. $88.85 (£64.11)
Daily Total: $352.95 (£256.41)
Day Two
8 a.m. — I wake up and do my whole morning routine (exercise, shower, skincare). I am feeling super uninspired in terms of what to wear lately, mainly because the rainy season and heat this time of the year make it impossible to get dressed. I put on a podcast on my way to work (Joe Rogan's interview with Bert Weinstein and Dr. Pierre Kory). I feel the world would be a better place if we listened to those who don't think like us to try to understand where the differences come from. Rogan does an amazing job in interviewing very diverse people in terms of background and ideology. I may not agree with what some of his interviewees say, but I still want to listen to their points of view. Sometimes this reinforces my opinions and sometimes they manage to change my mind.
1:36 p.m. — Very intense day at work! I get quite a lot of work done in the morning and manage to squeeze in lunch with my husband. We go to an amazing soba place next to my office ($30.87/£22.43) and then have coffee in Starbucks ($10.89/£7.91). $41.76 (£30.34)
9:48 p.m. — The afternoon is filled with meetings (some useful, some not) and I don't leave work until past 8:30. I try very hard to turn off my computer before 8, but some days it's impossible, especially when I have meetings with clients in Europe. I get home and have dinner with my husband, again watching cooking shows on YouTube (hello, Brad Leone!). Tonight we have gazpacho, which makes me miss home. We haven't been back to Spain since the pandemic began, but are planning to return in October for a one-month trip. My friend messages me to ask me if I want to go to a drag show at House of Gaishoku in a couple of weeks. I text back yes and set aside some cash to pay her later this week ($30/£21.79). I read for about an hour (I am reading Mary Renault this week, which I'm thoroughly enjoying) and fall asleep at around 11:30. $30 (£21.79)
Daily Total: $71.76 (£52.13)
Day Three
8:30 a.m. — I'm working from home for the rest of the week, so I wake up later and go buy some bread at the local bakery. My husband makes breakfast (scrambled eggs, bacon, coffee), which we eat while mindlessly watching TV. $9.45 (£6.87)
2:35 p.m. — I have quite a relaxed morning and then have my Japanese class ($50/£36.32). I take weekly lessons, which my company pays for. I am usually quite lazy when it comes to studying, so my progress hasn't been as good as I'd like. After class, I have lunch with my husband (pork chops with caramelised onions and mushrooms. Again, amazing cook). We eat at our "grown-up table" (i.e., the dinner table, rather than the coffee table…). Our apartment is 600 square feet, which is considered pretty decent for Tokyo. We bought the dining table last year during the state of emergency in Japan and it's made our apartment feel homier. ($50/£36.32 expensed)
8:30 p.m. — I take the rest of the afternoon off, as I have very little work. It's my anniversary (three years!), and my husband and I go for dinner to a restaurant we've been dying to try. The restaurant we choose does not disappoint: the place is beautiful and the food amazing. We have the tasting menu and I decide to try some new wines by the glass ($215/£156.19). We get back home by metro. Back in Spain, I would go everywhere by taxi or car, but it's so expensive here that public transportation is the only option. I don't mind it at all (except for the morning commute…) as the public transportation infrastructure in Japan is amazing. It takes us around 40 minutes to get back home. $215 (£156.19)
Daily Total: $224.45 (£163.06)
Day Four
6:50 a.m. — We're getting our first vaccine shot today! Japan has a workplace vaccination programme, and luckily, my company also provides it for my husband. We head to the vaccination centre, where the rest of my office is also waiting to get the vaccine. My husband gets nervous around needles, but the process is super smooth.
3 p.m. — After getting the vaccine, I head out with my boss and another work colleague for brunch. We struggle to find a place around the vaccination centre and end up in a fancy-ish restaurant overlooking a park. The place is lovely and the food is very good. Although I work from the office most days, a lot of my colleagues haven't returned yet, and I miss seeing them. We are all having a very relaxed second half of the week and are happy we get to blow off the morning of work. $30 (£21.79)
7:30 p.m. — At home, I have very little to do today, so I spend the afternoon reading fashion magazines to see if I get some inspiration for the coming days. I have my session with my psychologist ($60/£43.59), which I always look forward to. I started seeing her three months ago due to work-related stress/anxiety and have really been able to notice an improvement. I have uncovered so many issues in my sessions with her that have explained how I behave a lot. We do online sessions every two weeks (she is based in Spain). $60 (£43.59)
1:30 a.m. — I have dinner with my husband (gazpacho again) and we start watching Loki, which I've been looking forward to since it came out. I really enjoy it and we end up watching all of the released episodes in one night, which means a late night for us.
Daily Total: $90 (£65.38)
Day Five
9 a.m. — I have a flexible starting time, so I wake up at around 9, exercise, shower, and make myself breakfast (coffee and toast). I have a few meetings scheduled for today, but my morning is slow.
2:30 p.m. — My husband and I have lunch (carbonara pasta) and I sit outside afterward on our (small) terrace to read for a bit before going back to work. I really enjoy the days I get to work from home and don't have a heavy workload. The rainy season makes it hard to enjoy the weather, but we do get some sunny days every once in a while. Can't wait for the rain to stop so that we can start doing beach trips! One of the best things about Tokyo is that there are so many beaches within an hour or two.
9 p.m. — While my colleagues have drinks in the office to celebrate the end of the week, I've been stuck in a four-hour meeting for a Spanish project. The meeting is actually quite interesting, but I hate missing the chance to socialise with my work colleagues. It's hard to connect with most of my colleagues most days as the working culture in Japan is very different from what I'm used to (veeeeery hierarchical, little room for getting to know people on a personal level, the opposite of what I had in Spain). Anyway, at least I get dinner reimbursed as compensation. My husband is out with friends ($123/£89.36), so I order pizza and a beer ($37/£26.88, expensed) and watch The Bold Type. $123 (£89.36)
Daily Total: $123 (£89.36)
Day Six
8:10 a.m. — We're going on a weekend trip with friends! I've been really looking forward to this trip. We have rented a traditional Japanese house in the Niigata countryside with seven other friends ($190/£130.77). My husband and I rent a car ($136/£98.80) to get there. The drive takes about three hours and we meet up with our friends at an art exhibition near the house. It's free and pleasant, although not very impressive. We then head to a light installation, this time in a tunnel that ends in a beautiful gorge ($16/£11.62). $342 (£248.46)
7 p.m. — We buy groceries for dinner, which we split among all of us ($50/£36.32), as well as alcohol ($80/£58.12). My friend brought his grill, so we make fish, meat, and vegetables. Dinner is amazing and we stay until 3 a.m. drinking and singing in a make-shift karaoke. After two years here, I finally feel like we have a solid group of friends, which I'm so happy about it. It can get pretty lonely otherwise. My husband and I are very drunk by the time we go to sleep. $130 (£94.44)
Daily Total: $472 (£342.90)
Day Seven
9 a.m. — We. Are. So. Hungover. We wake up, clean the house up, and head back home. First, we stop at McDonald's for breakfast ($25/£18.16), which brings me back to life. My husband has to drive (I don't have a driver's license in Japan) and I feel genuinely sorry for him. We stop for gas once we arrive in Tokyo ($40/£29.06). $65 (£47.22)
2:35 p.m. — We arrive home and have a two-hour nap. A huge storm wakes us up and I brave the weather to bring the plants we have on our terrace inside. I spend the afternoon watching The Bold Type while my husband plays video games.
7:30 p.m. — Dinner is comfort food, which means instant Korean noodles (so! spicy!). I exchange weekend photos with my friends and read for the rest of the evening. I go to bed relatively early at 10.
Daily Total: $65 (£47.22)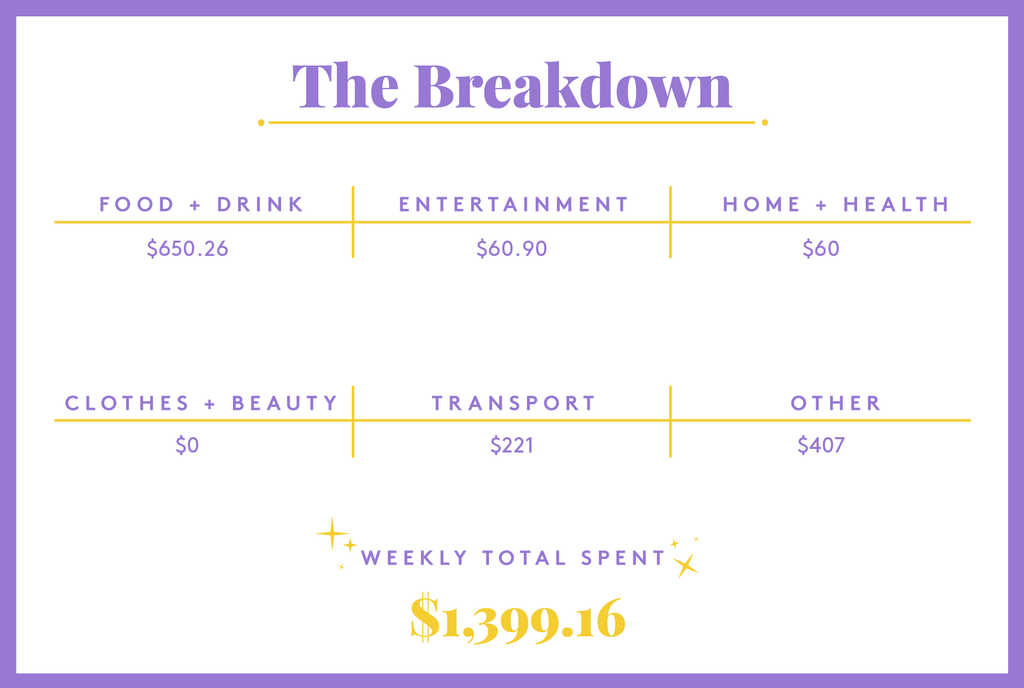 Money Diaries are meant to reflect an individual's experience and do not necessarily reflect Refinery29's point of view. Refinery29 in no way encourages illegal activity or harmful behaviour.
The first step to getting your financial life in order is tracking what you spend — to try on your own, check out our guide to managing your money every day. For more money diaries, click here.
Do you have a Money Diary you'd like to share? Submit it with us here.
Have questions about how to submit or our publishing process? Read our Money Diaries FAQ doc here or email us here.
Like what you see? How about some more R29 goodness, right here?
A Week In San Bernardino, CA, On A $43,800 Salary
A Week In Mississippi On A $62,500 Joint Income