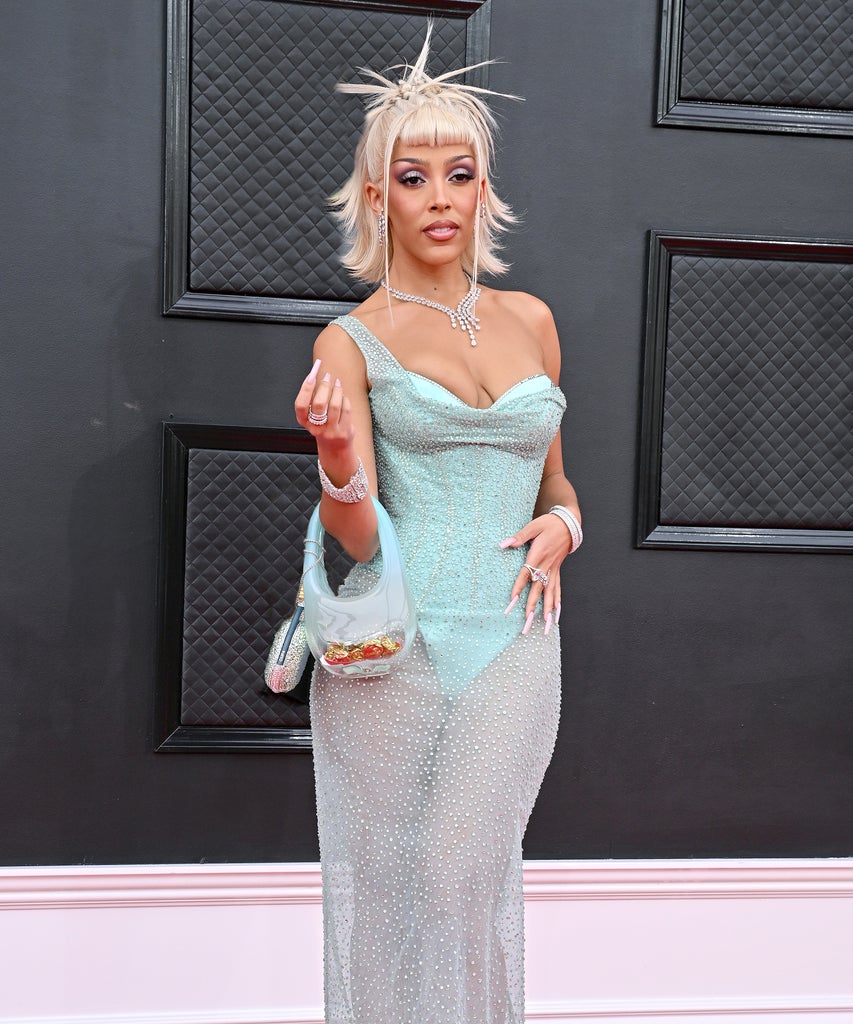 In March, singer Doja Cat walked the red carpet at the 2022 Grammy Awards, carrying a blue glass version of Coperni's "Swipe" bag. Later, Kim Kardashian appeared at the 2022 Revolve Festival in California, wearing a silver metallic version, while her sister Kylie Jenner sported a clear one — making her Kylie Cosmetics products visible — to the premiere of the family's new show The Kardashians.
Since the new It-bag debuted in March during Coperni's fall 2022 runway show on several models, including Gigi Hadid, celebrities have embraced the fragile and, frankly, confusing accessory. Handbags, after all, are theoretically meant to carry all our junk and essentials from a day at work to a night out. And while fashion has long maintained a history of impractical garments, this time, by simply experimenting with an unusual material, Coperni is playing with our perception of what a bag can be. And it's working. Since March, Google searches for "glass handbags" have risen to an all-time high.
The popular handbag is the result of a collaboration between Coperni and the glassware studio Heven, which also tapped Brooklyn-based glass artist Josh Raiffe for the partnership. Made from blown glass, artists Peter Dupont and Breanna Box used a thicker material than they typically do to make the bag durable and strong, which required them to utilise an air hose, instead of their mouths, to mold the glass. "We had to drill in and open it with scissors," co-founder Breanna Box told i-D. "It was hard to make that shape."
Throughout the process, the artists tried to translate the practicality of their usual glassware creations, which include horned vases and other homeware goods. "Our pieces always have a functionality, and that's one of the philosophies behind what we do with Heven," the studio's co-founder Peter Dupont told i-D. "This bag is functional: You can put your phone in it, your wallet."
But is that enough to earn glass handbags the label "functional"? Could we take the subway carrying them? Take them to a day of work? Bring them to a night out with friends? The thought of carrying a glass handbag with little room for essentials that could potentially make my hands sweat, prompting me to drop and break it, is enough to make me hesitant to swipe a credit card to get my own.
So, we asked professional glass artist Madeline Rile Smith, who also goes by @madhotglass on Instagram, to answer some pressing questions about this trend.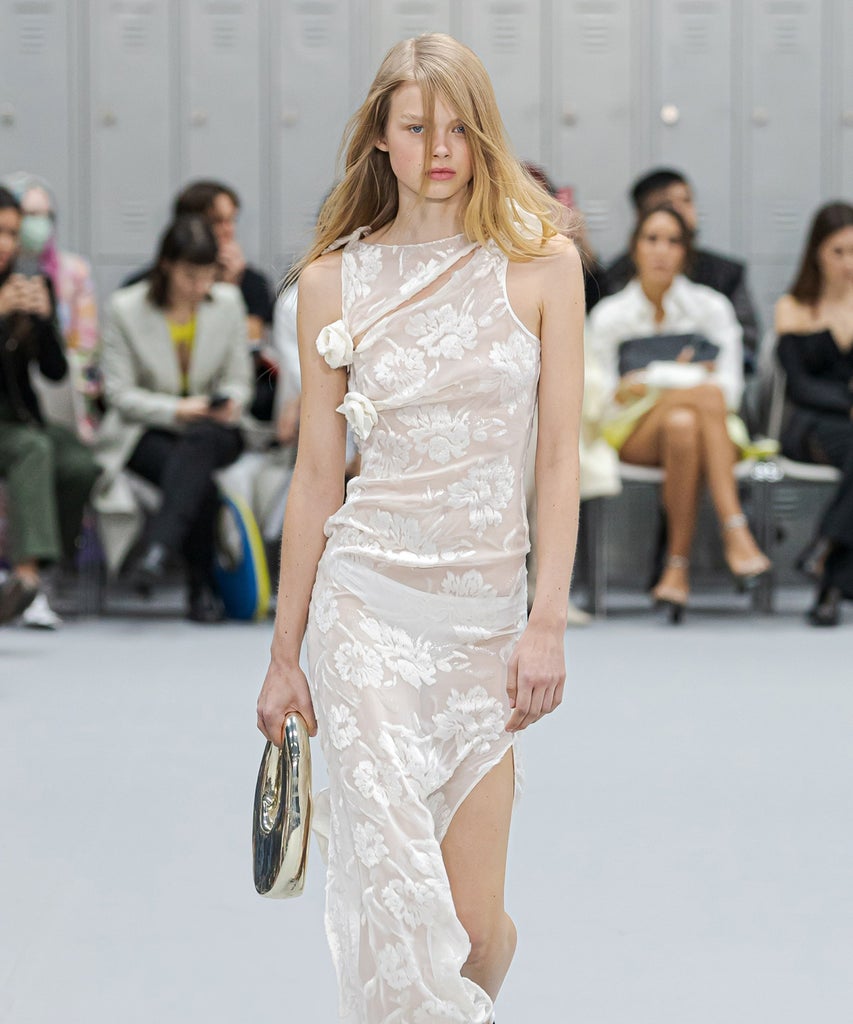 How Does Blown Glass Work?
According to Rile Smith, this craft begins with molten glass from a furnace that's kept at an average of 2,000 degrees Fahrenheit. The artist gathers the material with a stainless steel pipe, and later, blows into it to shape it into the desired structure. Some blown glass structures, like the Coperni x Heven bag, are too thick for artists to blow using only their mouths, so they opt for an air hose instead. "It's not often that we really use it," says Rile Smith. "But in the case that we're blowing something very thick, if a person were to try to blow it, they might get very dizzy."
She adds that, while we may see some innovation in the designs created from blown glass, the craft itself has not changed much in the past centuries. "A lot of it is that we had a way of doing it and there's not really a need to change it," she says. "So, of course, people are innovating with glass all the time and making things like odd objects, sculptures, bags."
Could A Glass Handbag Break?
Rile Smith is emphatic that, while blown glass used to make handbags is thicker than other applications of glass, it's still a fragile material. But when it comes to glass handbags, the thick material does provide some protection for parading them around. "If you're concerned about knocking it over or just durability, having something inside the purse rattling around, I think the thickness probably adds function to it," she says.
Still, there are scenarios where these handbags could break, especially if you drop them on a hard surface. So, Rile Smith recommends using these handbags as more of special occasion pieces than an everyday bags. "It is definitely a statement piece, and it's not something you just swing over your shoulder," she says. "It's maybe more suited for a cocktail party or just carrying it for a shorter period of time."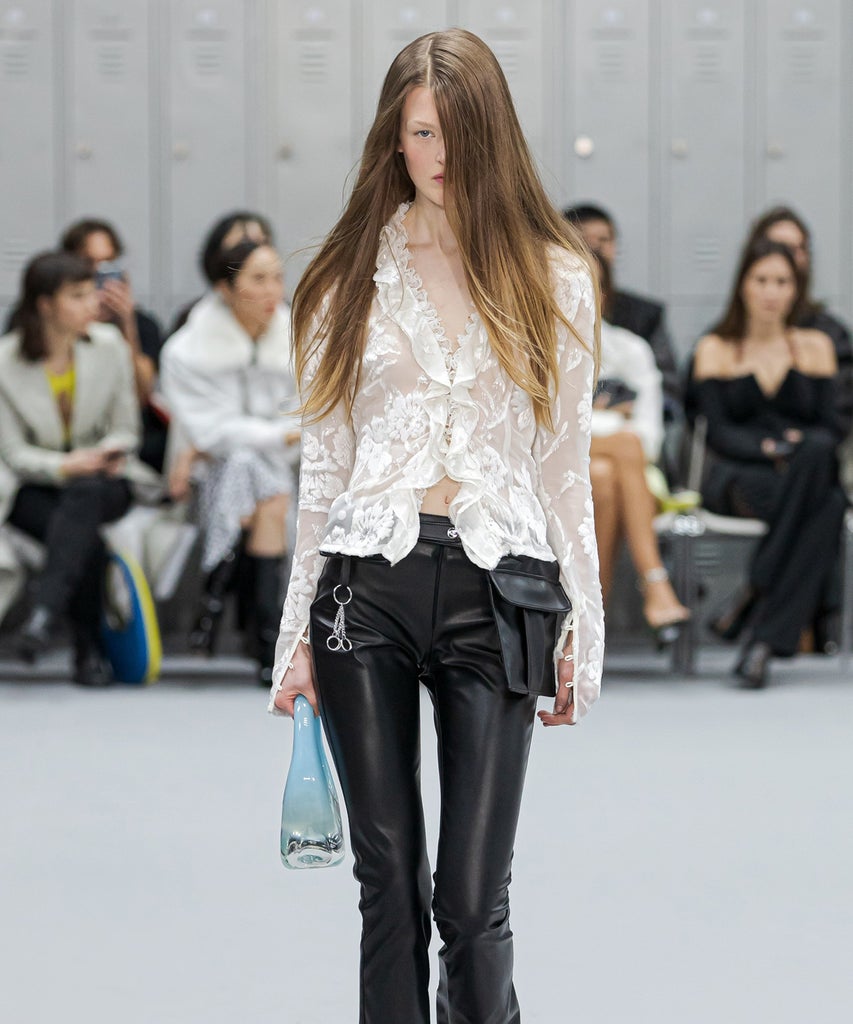 Are Blown Glass Pieces Expensive?
The Coperni x Heven glass handbag will be retailing for a whopping $2,700, according to Paper Magazine. While dropping thousands on a glass handbag may seem excessive, Rile Smith says this price isn't unusual for the blown glass market. "It's all a very expensive art form," she says, adding that the costs of electricity, materials, and technical craft contribute to this price.
Other artists are also making glass handbags for cheaper prices — or at least items that could be used as glass handbags. Homeware brand Sage & Sill sells a bag-like vase with straps for $125, while craftspeople on Etsy are offering similar styles in acrylic (which looks somewhat like glass) for less than $100.
What Should I Consider Before Buying A Glass Handbag?
Rile Smith recommends asking yourself, "When would I use the bag?" If there are events or special occasions in the horizon that merit such pieces, she says it's worth buying, thinking about them less as purses and more as "portable art pieces." The artist also says that it's good to make a comparison with expensive shoes or jewellery: "Definitely wear them at places where you know your surroundings and you can take care of this item."
Ultimately, Rile Smith says, the allure of glass handbags lies in the fact that they're so impractical. "The fact that it requires so much more care in just holding it and the way you interact with it — I feel like that's why people are drawn to it," she says.
Still, if the impractical nature of glass handbags (plus, the hefty pricetag!), there are still ways to channel the trend with the options below — even if it's just for the 'gram.
At Refinery29, we're here to help you navigate this overwhelming world of stuff. All of our market picks are independently selected and curated by the editorial team. If you buy something we link to on our site, Refinery29 may earn commission.
Like what you see? How about some more R29 goodness, right here?
Every Statement Bag You're Set To See This Summer
Inside The 2022 Comeback Of Y2K's Favorite It-Bag