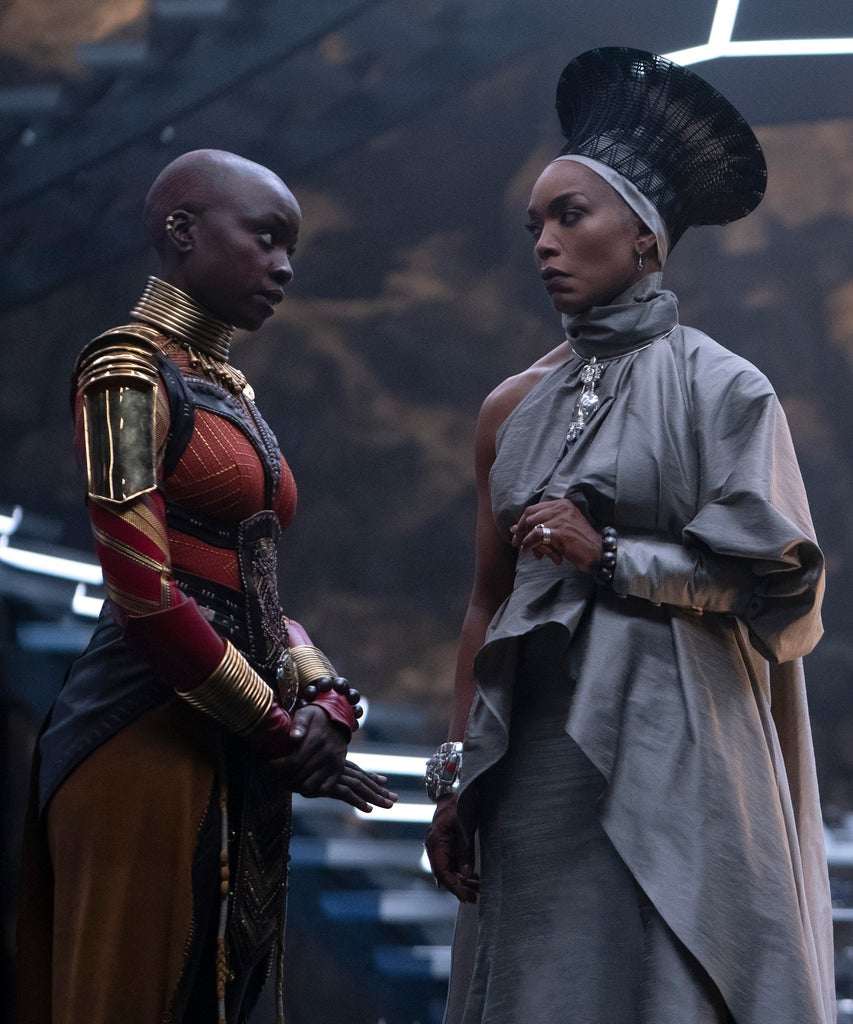 This story contains major spoilers for Black Panther: Wakanda Forever. I cry a lot. Bursting into tears from even the slightest bit of emotion on screen (doesn't matter what screen – TikToks, TV commercials, award show speeches, This Is Us reruns, rom-coms, Marvel movies, take your pick) is one of my most defining personality traits. One thing I'm going to do is sob uncontrollably at the plight of a fictional character, so I knew I was going to be inconsolable while watching Black Panther: Wakanda Forever. The film opens with the death of King T'Challa, written into the script after the real passing of Chadwick Boseman. What follows is a riveting journey of grief in all of its forms — the devastating denial of it, the all-consuming anger it unleashes, the familial responsibility that succeeds it, and the endearing love that compounds it.
T'Challa's death was expected. From the moment Tems' voice kicked in singing "No Woman No Cry" in the movie's trailer, we all knew that we were in for an emotional ride where our fave characters would be processing their king's ascent to the ancestral plane right alongside the audience still reeling from Boseman's sudden passing. What we weren't expecting, however, was another massive death. This is your last spoiler warning. You've had a whole week to see the film. Seriously, stop reading if you have yet to watch Black Panther: Wakanda Forever.
Angela Bassett's Queen Ramonda is dead.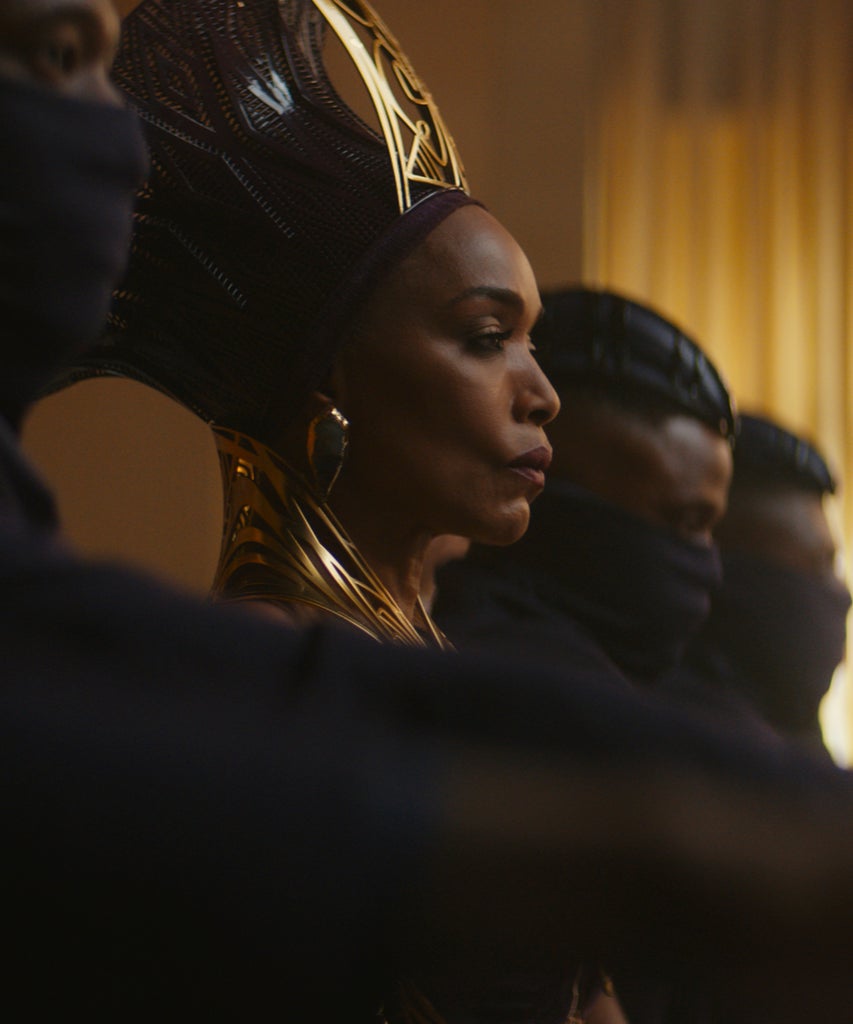 After a lengthy battle with Namor (Tenoch Huerta), the fine ass villain who wages war against Wakanda when Princess Shuri (Letitia Wright) refuses to join forces to "burn the world," Queen Ramonda is killed as she sacrifices her life for RiRi Williams (aka Iron Heart, played by Dominique Thorne). She's a teen science prodigy whose vibranium-adjacent inventions land her in hot water with Namor and the people of Talokan, an underwater city, who are desperate to preserve their way of life. Wakanda vows to protect RiRi and Queen Ramonda's death is the price they pay for that commitment — well, according to Namor. Ask any of the many angry fans on Twitter (bad Wakanda Forever takes may be the social media platform's last hurrah) and they'll say that the queen's death was unnecessary, uncalled for and downright cruel. As someone who was hyperventilating crying in the theatre before Queen Ramonda's death and who yelled "NO!" through sobs so loud I got shushed when she died, I will put aside my emotions for a second to say that it was absolutely the right choice and it was not only necessary, it was essential to the story being told by director Ryan Coogler.
Black Panther: Wakanda Forever is a hero's journey mirroring its predecessor. This time, instead of watching a son reluctantly become king in the wake of losing his father, we're watching a daughter step into her destiny and finally face her grief amidst losing her mother. T'Challa's death broke Shuri. She lost her big brother while she was fighting to save him with the one thing she believes in more than anything: technology. When that doesn't work, Shuri is untethered. She refuses to use her gifts to recreate the heart-shaped herb, a plant that grows in vibranium and when ingested, the recipient becomes the Black Panther. She's too busy blaming herself for the brother's death to realise that she's the only one who can save her people. She's able to sit in this ignorance, to get comfortable in her grief, because Queen Ramonda is there to lead Wakanda. Queen Ramonda is still there to mother the entire kingdom so that Shuri doesn't have to grow up. She had to die so that Shuri would be pushed to take her rightful place as the Black Panther and the leader of Wakanda — whether that's going to be a short-lived title or not (the end teased a M'Baku reign, and Winston Duke's thighs are ready to lead!).
Queen Ramonda's death also sets up one of my favourite scenes in the whole film, and I'm not just saying that because it stars my future second ex-husband. When the queen dies, Shuri makes the heart-shaped herb, drinks it, and heads to the ancestral plane. It's the same place T'Challa went in Black Panther and had a beautiful moment with his father, King T'Chaka. Shuri assumes that her mother or brother will be waiting for her in the magical space that bridges the living and dead, she's met face-to-face with her cousin, Killmonger (my future ex, Michael B. Jordan) instead. The second time I saw the film, the whole theatre gasped at this reveal. This shocking and satisfying twist would not have been possible without Queen Ramonda's death. If she were alive, a Killmonger sighting would have been more predictable. We would have known Shuri wouldn't be able to see her brother (rest in peace, Chadwick), and that the most prominent dead character aside from T'Challa is Killmonger. The shock of seeing Killmonger isn't just a ploy to get audiences to gasp, the surprise also acts as a test to Shuri.
Namor and Killmonger have similar motivations (freedom, power) and enemies (white supremacy, Wakandan royalty). Both have an ancestral connection to the water; Namor's people, based on Mesoamerican Indigenous communities, flee to the ocean to escape colonization. And who could forget Killmonger's "bury me in the ocean with my ancestors who jumped from the ships because they knew death was better than bondage" speech? Both want to burn the world as retaliation and revenge, in search of home (Killmonger) or in preservation of it (Namor). This connection is essential to the reasoning behind Queen Ramonda's death. Like Killmonger, Namor isn't afraid to kill for his cause. A good villain is one with clear motivations whose evil intentions have depth, but in order for us to really root against them (even when our bodies are telling us to do the opposite — seriously, they are both stupidly fine), they have to do something unforgivable. In Black Panther, Killmonger seemingly murders T'Challa and burns the rest of the heart-shaped herb garden. Even though T'Challa survived, there was no coming back from that. Killmonger was officially the Bad Guy.
In killing Queen Ramonda, Namor turns a corner from sympathetic victim of colonisation who is just protecting his family to a revenge-hungry sociopath. Namor makes some points, but none of them are worth stripping a daughter of her mother, a kingdom of its queen, and a grandson of his grandmother. We needed to see Namor as a murderer so Shuri could fulfil her purpose as the protector of Wakanda from even the most terrifying villain. And there's nothing scarier than a bad guy who thinks he's doing good (see: Thanos).
Shuri's purpose is the final reason I'm ready to brave the Wakanda Forever discourse to defend the decision to kill Queen Ramonda. Someone had to become the Black Panther. Ryan Coogler and the rest of the crew behind this film chose to honour Chadwick Boseman by laying his character to rest instead of recasting the role. And as an act of healing, they paid tribute to their friend and colleague throughout this film. From the traditional all-white Ghanaian-inspired homegoing that opens the movie to the silent Marvel credits that roll using Boseman's face alone, the movie is a stunning memorial. No one else could have been the Black Panther than Shuri. Aside from the precedent set in the comics, she is family. She wouldn't do it out of duty alone (which would have been the motivation if it was Danai Gurira's Okoye) or out of guilt (arguably why Nakia comes back from Haiti; she's been running from Wakanda for years).
"Purpose is an essential element of you. It is the reason you are on the planet at this particular time in history. Your very existence is wrapped up in the things you are here to fulfil. Whatever you choose for a career path, remember the struggles along the way are only meant to shape you for your purpose." That's a quote from Chadwick Boseman's Howard commencement address. Yes, I know we are talking about fictional characters here, and evoking this memory may seem like a stretch, but I think making Shuri's purpose integral to the plot was another subtle nod to Boseman (like RiRi's "to be young, gifted, and Black" line). Shuri fulfilled hers, and so did Queen Ramonda; she raised the next generation of Wakandan leaders, and as she ascends to her next chapter, she can rest easy knowing that she prepared her kids for their purpose. She left her country in capable hands.
I understand why the internet is divided on this death. It's devastating. But grief isn't convenient. And Coogler and co. would have been doing a disservice to their film to spare us some discomfort for a lesser story. Angela Bassett herself said she "objected" to her character's death when she first heard the plan. "I was like, 'Ryan [Coogler], what are you doing? Why? You will rue the day! You will rue the demise of [Ramonda]. People are gonna be so upset.'" Bassett told Indiewire. She says that Coogler told her that "'to die is not really to die in this world. It doesn't really have to mean that.'" Not only are they setting up Queen Ramonda for another possible appearance in the ancestral plane or even in the Marvel multiverse in the future, the film also gave Bassett so much incredible material, she's already getting Oscar buzz.
If killing Angela Bassett in Wakanda Forever is what gets her an Oscar, how can we complain? Bassett finally getting the flowers she's deserved since 1993's What's Love Got To Do With It? That's nothing to cry about — well, not until her acceptance speech.
Like what you see? How about some more R29 goodness, right here?
How Women Grapple With Grief In Black Panther
I'm Swooning Over MAC's Black Panther Makeup