From birthday nights out and wedding guest outfits to holiday party dressing, sequins are pretty much synonymous with partywear. Now that the festive season is in full swing and brands have ramped up their sequinned, beaded and rhinestone-encrusted offerings, it's the perfect time to embrace maximalist dressing.
When it comes to buying a sequinned 'fit, either new or pre-loved, there's always the dilemma of whether you'll get a decent cost per wear out of it. Even though sequins seem impossible to dress down, there are tons of creative ways to wear this party look for the daytime, too. Whether you're heading to the office, indulging in some festivities during the day or have a diary filled with after-work parties this season, the R29 team has set out to help you style out your looks via multiple combinations.
From sequinned dresses and suits to skirts and co-ords, five R29 staffers across the UK and US accepted the challenge to style their favourite sequinned looks for night and day. Since we're big advocates of wearing whatever you want this holiday season, we're also here to show you that there is no set formula for dressing up or dressing down. We invite you to scroll on and see 10 different ways to wear your sequinned looks this festive season…at every hour of the day.
Ebony-Renee Baker, Fashion Editor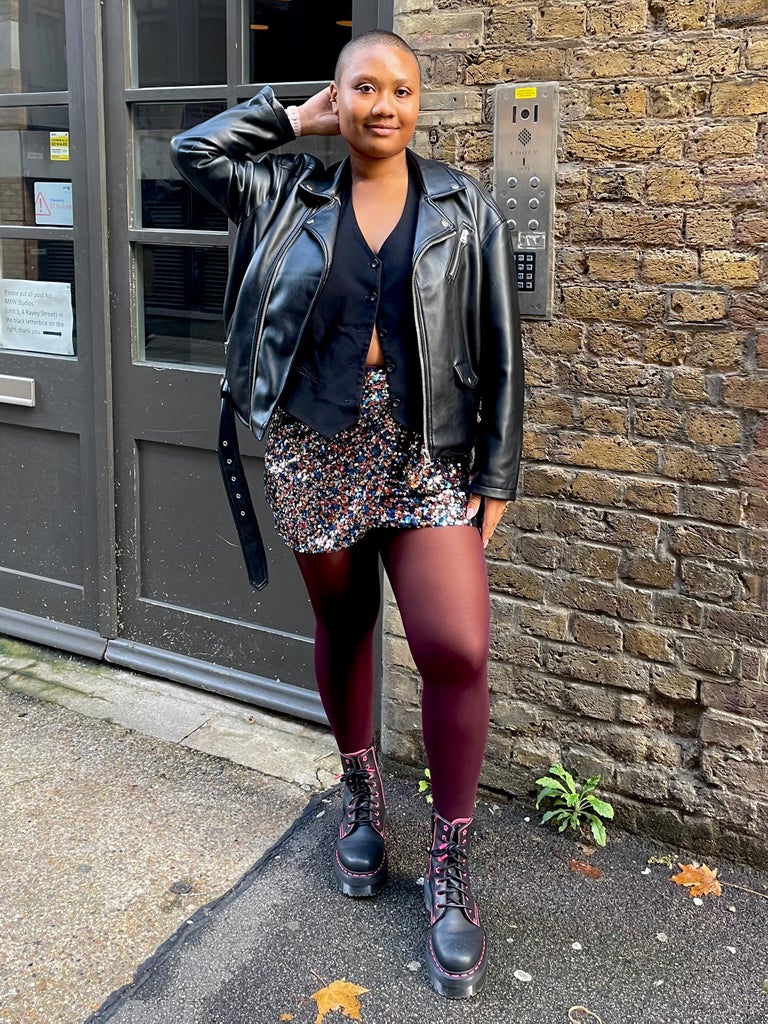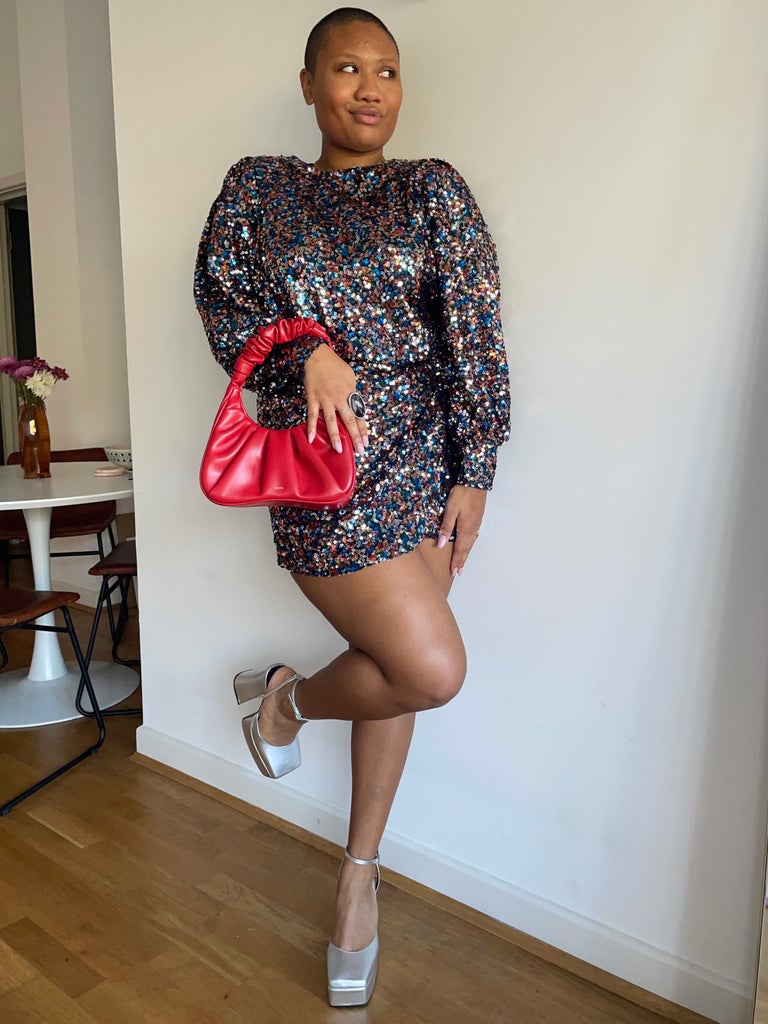 "When I first saw this bold co-ord hanging in Sézane's Paris showroom, I knew it had to be mine. That being said, my mind immediately assumed it would only be worn during Christmas party evening soirées so styling it for daytime was eye-opening for me. While I already love being OTT during the daytime, this skirt took my officewear to new levels when I paired it with my platform Dr. Martens, leather jacket and a pair of colourful tights. To dress it up, I kept it simple so as not to outshine the outfit, which is why I paired it with silver heels and my fave red handbag. The multifunctionality of this look reminded me that sequins are such a fun confidence-booster."
Alicia Lansom, Assistant Editor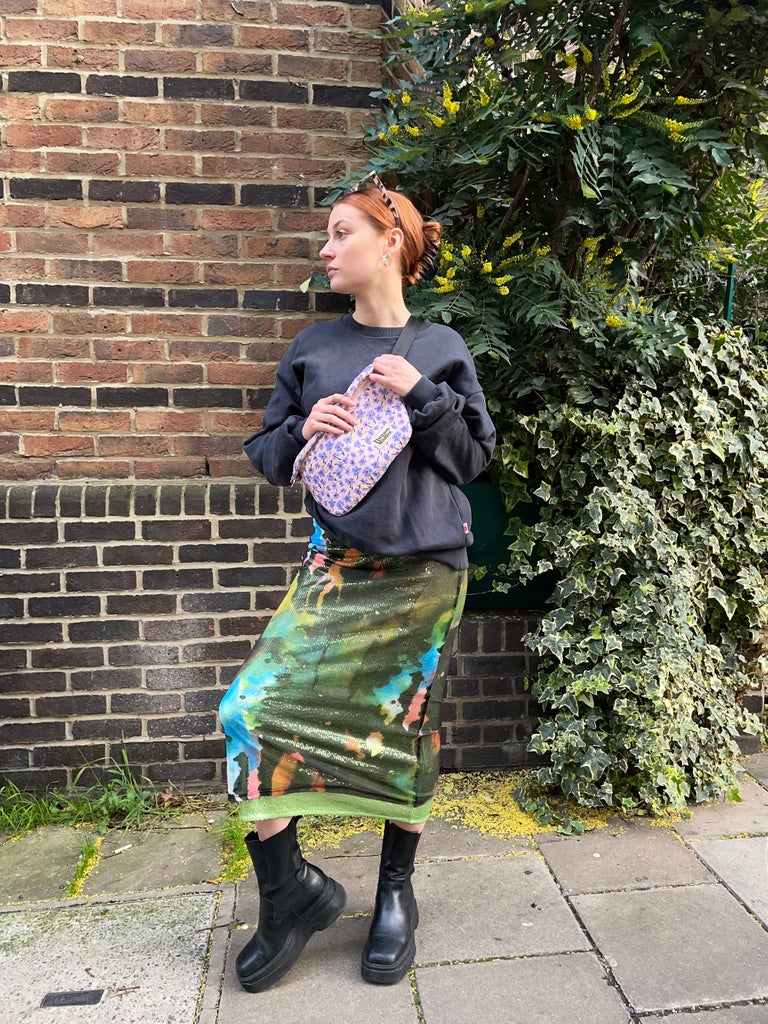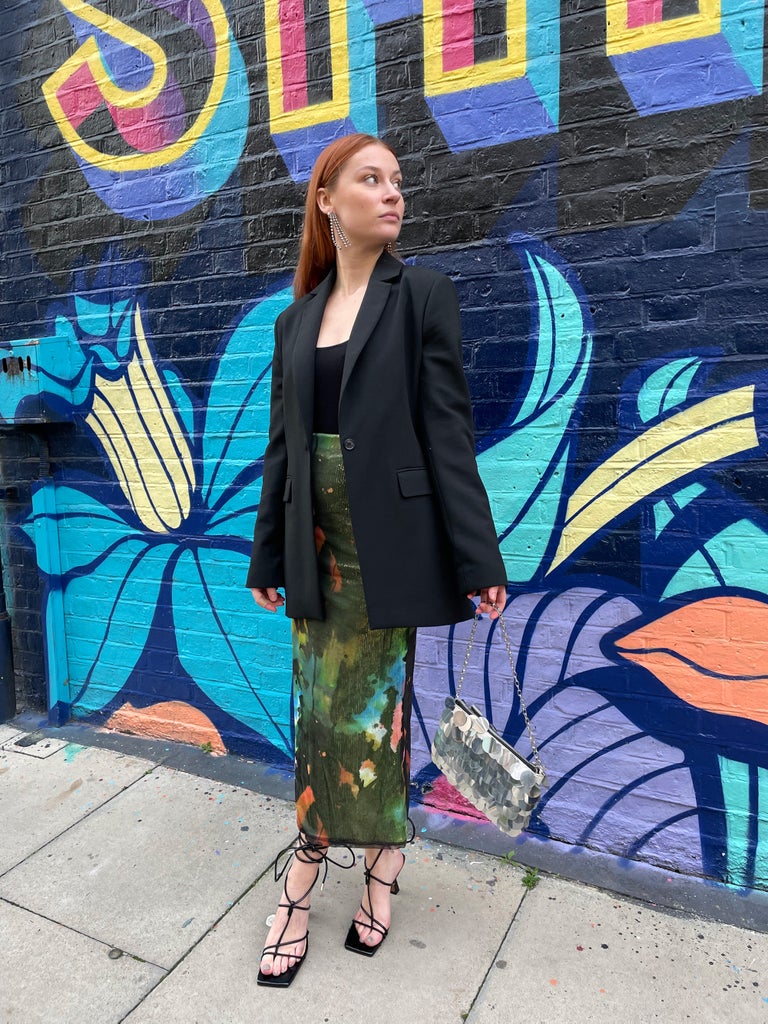 "I always refer to myself as a magpie when it comes to fashion because I love anything shiny. I need very little persuading to wear sequins on a night out, however, wearing them during the day was a major step out of my comfort zone. This Topshop skirt turned out to be the perfect choice as the sequins are layered underneath mesh, which makes for a more subdued look. In the end I actually preferred my daytime look – the skirt worked perfectly with a baggy sweatshirt, crossbody bag and boots. All I did to take it from day to night was replace the jumper with a blazer and add heels and some sparkly earrings. Oh, and a sequin shoulder bag too, because you can never have enough sparkle at Christmas."
Irina Grechko, Fashion Director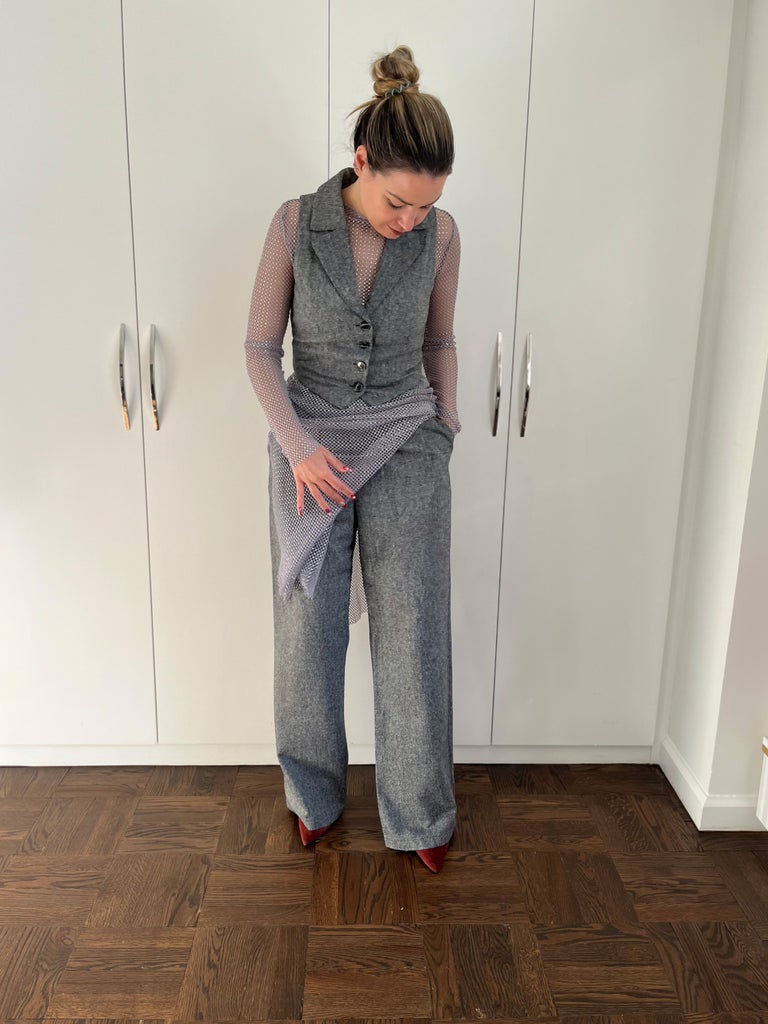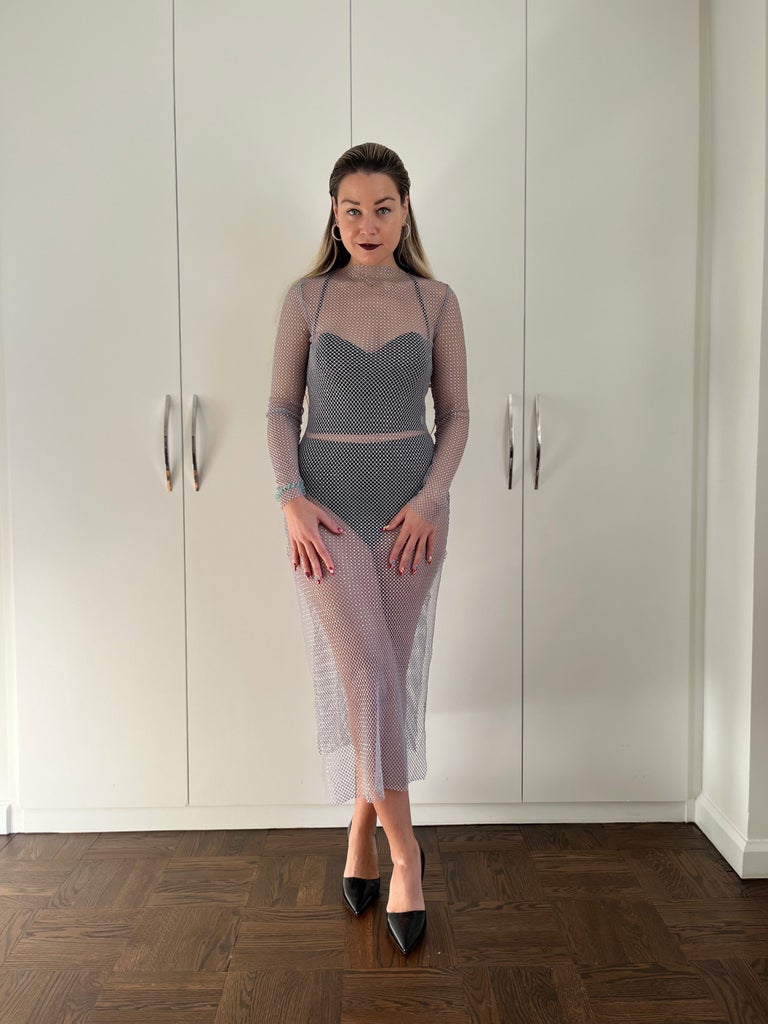 "Typically, I am not a huge fan of sequin or crystal-encrusted pieces – I am a minimalist who relies on a wardrobe of layerable essentials – but every year, during the holidays, I get the urge to shine a little brighter. I've been loving the naked dress trend on the runways, which I am making my look for this holiday season. What I love most about the sheer dress is that it's versatile enough to be worn underneath a blazer or over trousers for daytime. Come nighttime, ditch the trouser suit at work and make the dress a showstopping piece with a pair of high-waisted briefs and a bra (or a bustier if you prefer more coverage like me), a vampy lipstick shade and sparkly accessories."
Vivien Lee, Affiliate Fashion Writer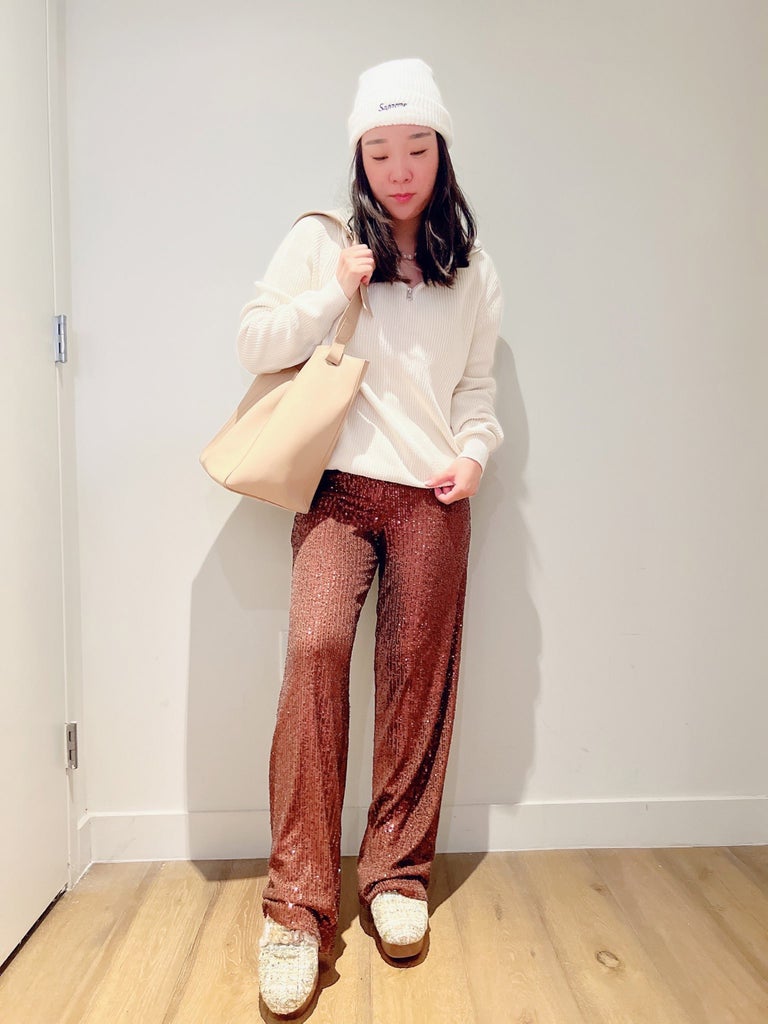 "While my eyes love anything glittery, I'm not one to willingly wear sparkles. But since sequins have been popping up everywhere, I decided it was time to give them a try. I love a monochromatic look so I opted for this chocolate brown sequin set from Saylor. The trousers are a fun option for work and are easy to style – plus they're super comfy and breezy. For my daytime look, I went with a cream-coloured sweatshirt, my pearl necklace, clogs and a white beanie. For a night out with friends, the entire set adds that bit of pizzazz with white ankle boots and a furry bucket hat.
Esther Newman, Affiliate Writer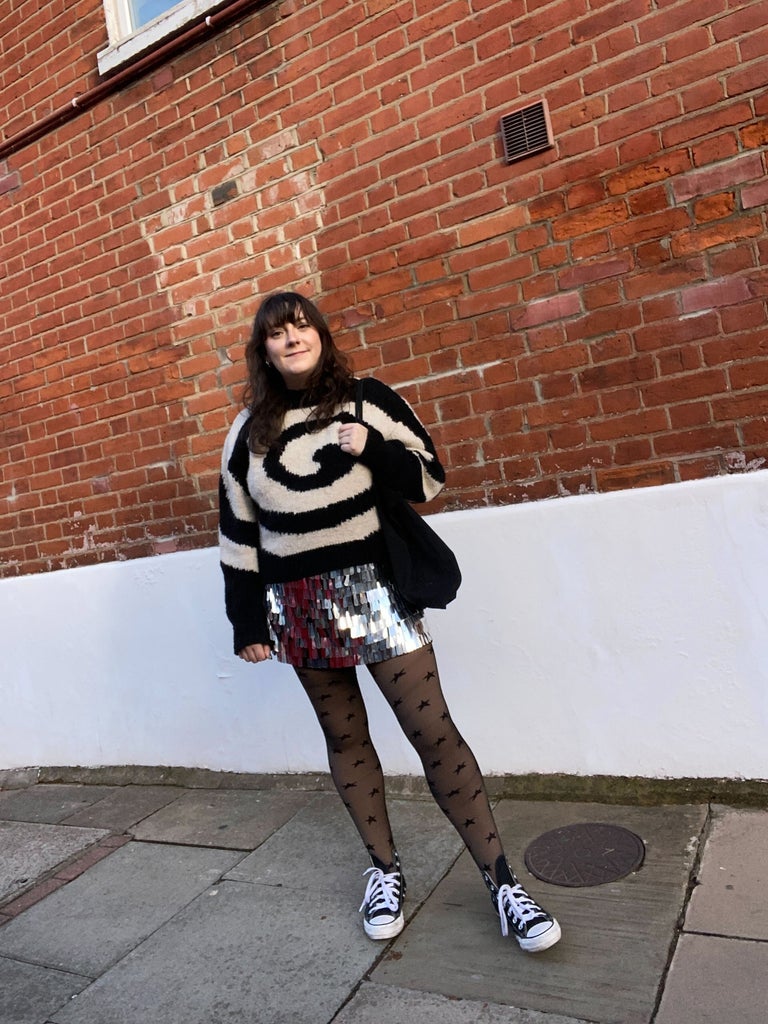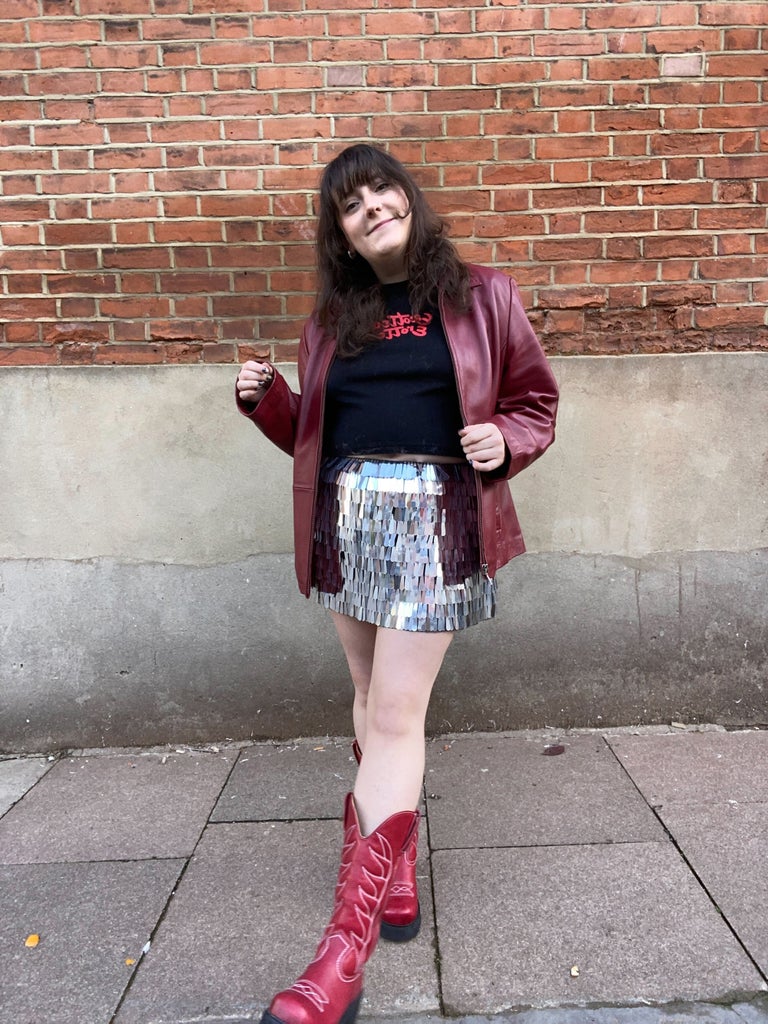 "When it comes to sequins, the bigger, the better in my book. This Free People skirt is so fun to twirl around in – very reminiscent of the iconic Paco Rabanne chainmail mini skirt. Styling this for the day was tricky, especially because it is rather short (though it is secretly a skort, so you do feel more covered than you look). To balance out its length, I paired it with a chunky jumper and my trusty Converse high tops. I didn't want to compete with the sparkle so kept my colour palette simple with black and white, and leaned into the festive spirit with some star-printed tights (worn over nude, fleece-lined tights so I don't freeze). For a nighttime look, I'm not one for glam so I'd wear this with one of my favourite baby tees, statement boots and a vintage leather jacket."
Venus Wong, Shopping Writer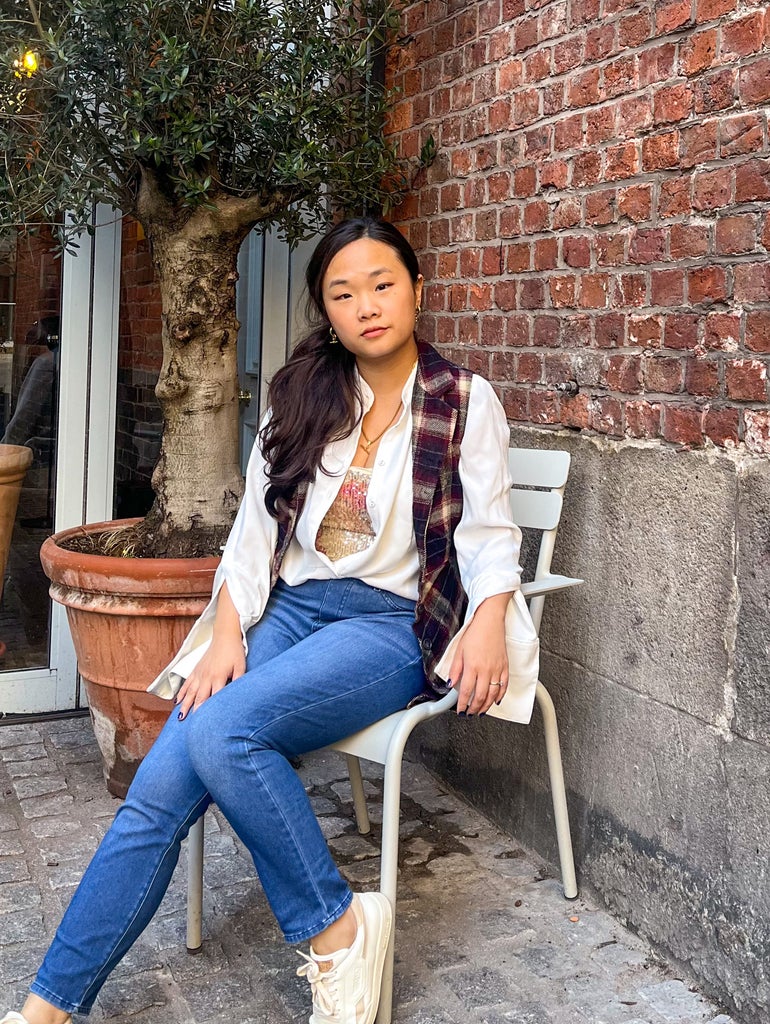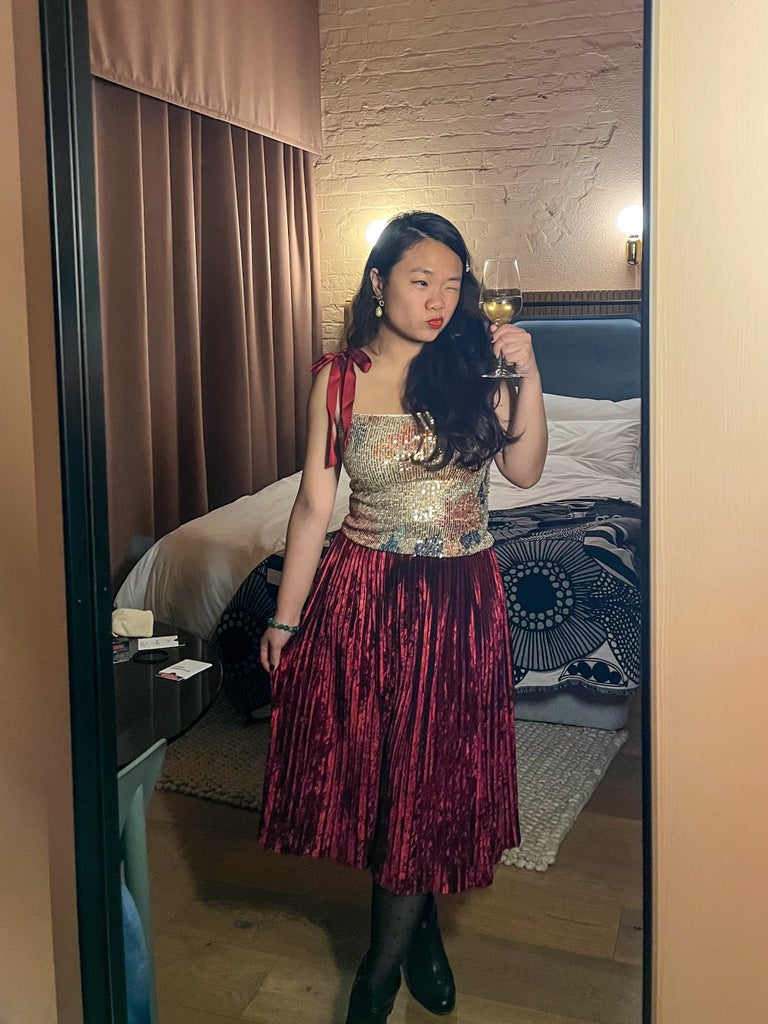 "This tube top from Free People was a great piece to put some bling in my holiday style: the embellishments were very subtle, while the burgundy ribbon straps added a soft, festive touch. To make sequins work for the daytime, I paired the top with blue jeans and wore it under a white shirt and vintage wool vest. Having the sparkles peep through made the outfit eye-catching, but not over-the-top. I wore the piece again that evening to a jazz bar, with a pleated skirt and polka dot tights. I felt like a million bucks in both outfits."
Refinery29's selection is purely editorial and independently chosen – we only feature items we love! As part of our business model we do work with affiliates; if you directly purchase something from a link on this article, we may earn a small amount of commission. Transparency is important to us at Refinery29, if you have any questions please reach out to us.
Like what you see? How about some more R29 goodness, right here?