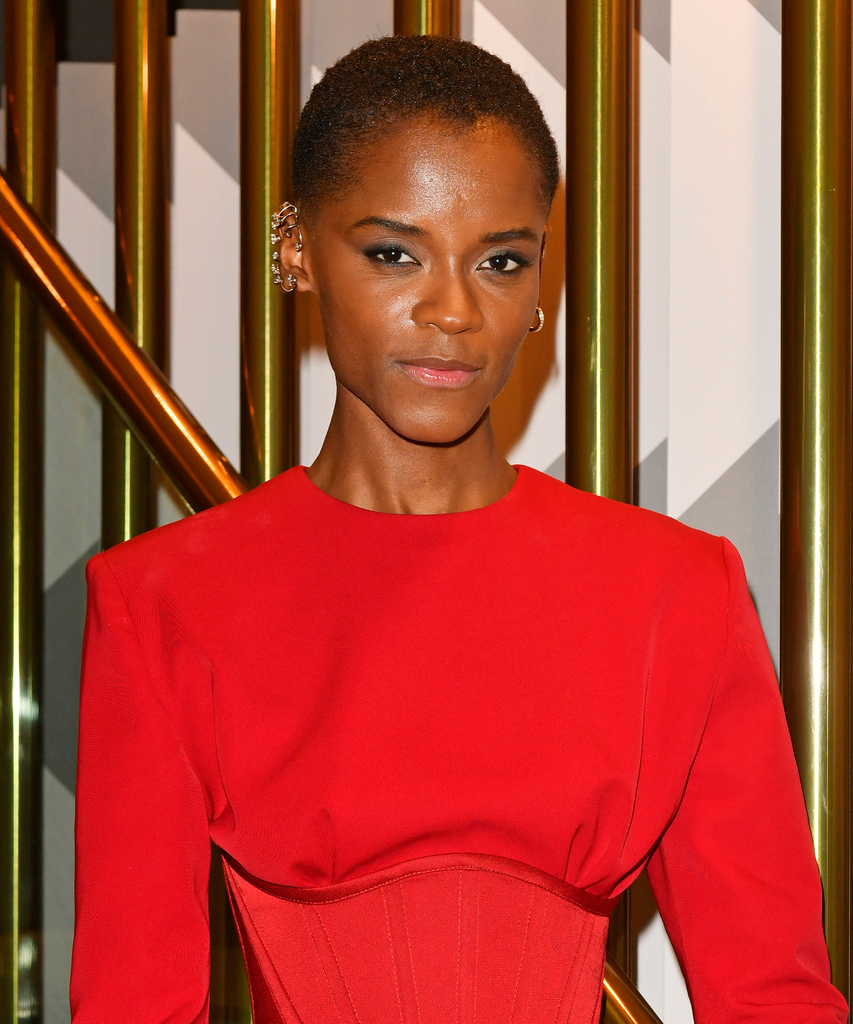 For many film aficionados, it's the most wonderful time of year. I'm not talking about cosy jumpers, Christmas rom-coms, or even the holidays; awards season is in full swing. Monday's Gotham Independent Film Awards kicked off the slate of early indie shows that serve as potential predictors for the bigger ones (like the Oscars and BAFTAs). And the buzz for certain performances is also picking up. We're in the season of talking about which actors, directors, and creatives deserve accolades for their work this year. 'Who deserves what' discourse dominates our timelines every year right alongside photos of everyone's low vibrational holiday food plates. This year, one thing is already very clear: Letitia Wright doesn't deserve the award season conversation she's unwillingly become wrapped up in.
Last week, The Hollywood Reporter (THR) published a piece called "How Personal Baggage Will Impact Oscar Chances" in which they compared Wright and her past ill-advised posts in 2020 which she shared an anti-vax video (she has since deleted and apologised for the posts and vehemently denied reports she spread anti-vax views on the set of Black Panther: Wakanda Forever) to Brad Pitt, who allegedly abused his wife and children, Roman Polanski, an alleged rapist, and Woody Allen, an alleged child molestor. Will Smith, who slapped Chris Rock onstage at the Oscars last year after he told an inappropriate joke about his wife Jada Pinkett-Smith, is also mentioned in the piece after getting attention for his role in Emancipation. Some of these things are not like the others. There is even a false equivalency between Wright and Smith — one posted harmful misinformation on the internet and the other hit someone — but both are being unfairly lumped in with white men whose alleged bad behavior is illegal and dangerous, not just a clumsy momentary lapse in judgment.
THR's piece, written by Scott Feinberg, does half-heartedly try to distance Wright from the rest by stating, "While hers is far from the magnitude of baggage held by Smith or Pitt, she did endure a fair share of bad publicity…". Wright did (rightfully) face intense scrutiny for posting the anti-vax video, which also included transphobic sentiments (in her initial statements she said she had no intention of doing anything but questioning what was in the COVID-19 vaccines). Wright deserved the backlash she received — sharing that video was just plain wrong — but she did what anyone would have hoped she would do after such a blunder; she took it down and said sorry. That's more than we can say for Pitt, who has yet to publicly address the allegations made against him by his ex-wife, Angelina Jolie, or for Polanski and Allen, who continue to deny or ignore their allegations (Polanski plead guilty to statutory rape but denies the several other rape claims against him). Filing all of these instances under "personal baggage" and equating Wright's regrettable vaccine hesitancy, something many Black people were facing at the time, to alleged acts of abuse is so obtuse it feels malicious — which is exactly what Wright alluded to on Instagram.
In response to THR's story, Wright posted a series of IG stories that are saved as a highlight on her page titled "SMH" (shaking my head). "You're all incredibly disrespectful. How dare you. You mention my name alongside men who have been accused of abuse and sexual misconduct. This is vile behaviour," she wrote. She goes on to reiterate that she apologised for sharing the video in 2020 and has never said anything else on the topic while THR has a "personal vendetta" against her for turning down interviews with the outlet. Wright says she asked Feinberg and THR to take her name out of the article but they refused. The Hollywood Reporter has yet to respond to Unbothered's request for comment. Feinberg has deleted all of his social media accounts and gone dark online in the wake of Wright's response (and another controversy in which he tweeted glibly that Harvey Weinstein would have marketed She Said better after it did poorly at the box office — the movie is about the reporters who broke the story of Weinstein's years of sexual abuse and misconduct. Feinberg apologised for the tweet).
Naturally, Twitter had a lot to say on the controversy. Raven Brunner, a reporter for Decider, criticised THR's piece by tweeting, "[Wright] has her controversies and I have been loud as hell about them but these are incomparable offences." Her tweets went viral and garnered a response from Feinberg over DM, she says, who claimed in his defence that he had been "assigned to write" the story. Unbothered has reached out to Feinberg for comment. Over email, Brunner says, "Letitia Wright has every right to demand an apology from the outlet and the writer, and request for her name to be removed from the article… I cannot begin to fathom how it feels to be equated with abusers who have skirted their way through Hollywood with little to no repercussions."
A swing and a miss.

How dare you group Letitia Wright with a bunch of men accused of abuse and assault.

She has her controversies and I have been loud as hell about them, but these are incomparable offenses. https://t.co/tYPPB3drMe

— Raven Brunner (@raventbrunner) November 21, 2022
This is the thing that has been irking me so much about this story, and how Wright's name is casually being thrown in with these men to somehow disqualify her from a race she likely wouldn't even have been a part of. Wright is a Black woman. She's the Black lead of a Marvel movie. The Oscars rarely rewards people with one of these associations, let alone two. We also know that if anyone is going to get the symbolic nomination from Black Panther: Wakanda Forever — just so the Academy can say they didn't exclude the biggest and Blackest movie of the year — it's going to be Angela Bassett. Wright is barely in the awards conversation even though her performance as Shuri deserves the recognition. Now, all she's getting is publicity that may surely guarantee she's left off the award show ballots. This unfair association is all anyone will think of when Wright's name comes up in the awards conversation. These are organisations and outlets who have continued to uphold Hollywood's ingrained misogynoir and racism and now they dare to say a Black woman's social media slip-up is the same as a white man allegedly raping someone. Who gets to make mistakes in Hollywood when the bar is clearly in hell but only for a chosen few? When Black actors are left begging for scraps of recognition and must maintain pristine standards of respectability to even be considered, it's clear this system of adulation isn't worth celebrating.
It's especially infuriating when you think of how often Hollywood props up bad men and even rewards them amidst their horrible controversies. Casey Affleck won a Best Actor Oscar after lawsuits claiming he sexually harrassed two women (he settled) and Gary Oldman won the same award after a domestic abuse allegation by his ex-wife. Bryan Singer, another man accused of sexual abuse, is mentioned in the THR piece alongside Wright. So is noted racist and alleged domestic abuser Mel Gibson. Hollywood and its awarding bodies continuously forgive and excuse the alleged abusive behaviour of powerful men. They did it with Polanski (he was barred from the Academy in 2018 but still has his Best Director Oscar), with Allen (also an Academy Award winner). They are still doing it with Pitt (an Oscar winner who will likely be nominated this year as a producer of She Said or for his performance in Babylon). And yet, this grace isn't extended in the same way to others. It's just more proof that Black folks are held to a different standard. There is no margin for error if you are Black in Hollywood. For white men, literal crimes will be whittled down to mistakes or "personal baggage" while for Black women, they will be stains that follow you for your entire career.
Smith's case is a little more nuanced. Wright has objectively done nothing to deserve being in this conversation. Smith did something — but was it really that bad? Did it warrant the nearly year-long tearful apology tour he's been on? Is a grown man slapping another grown man (who wasn't hurt physically by the action) at a fancy event worth the pearl clutching and righteous indignation we've seen from so many in Hollywood? Smith may be a narcissist who did something dumb in a moment of weakness, but he's not, as far as we know, an abuser. The rush to paint Smith as an evil brute or a violent man feels anti-Black. Smith broke the unspoken respectability standard in front of white people and they will never let him live it down. The men mentioned above actually hurt people (allegedly) and yet they continue to be rewarded and invited back into the fold (Smith is banned from the Oscars for 10 years). "I'm tired of hearing about the slap," Brunner says and agrees that Smith was "unfairly included" in the THR piece. "I'm furious that the media, commentators, and the Academy continue to act like [Smith] committed a premeditated, malicious attack… The fact is that one violent act does not equate to a pattern of abusive behaviour."
I would argue that The Slap™ wasn't necessarily a "violent act" but the point stands. And as frustrating as it must be for Smith to now forever be associated with something that puts him in the same sentence as potential criminals, imagine how Wright must feel. One outlet's careless attempt to spin a story out of the slow buildup to awards season has resulted in a viral controversy and put Wright through undue stress. "As someone who is currently in therapy to overcome my own experience of sexual abuse, this is not okay," Wright says on Instagram, calling the ordeal "incredibly triggering."
"These conversations are ongoing and the more we talk about the root of the issue which is lazy, clickbaity journalism and the incessant need to undermine people of colour, oftentimes women, the closer we will get to a resolution," Brunner says. She cites Nanny director Nikyatu Jusu as a recent example. Jusu called out The Daily Beast for misrepresenting her quotes in an interview with them and reducing her insights on imperialism and Christianity to an opening line that read, "Nikyatu Jusu's parents loved white Jesus." Rather than remove the offensive line, The Daily Beast added a disclaimer under the paragraph that lacks any personal responsibility. "If [Feinberg], THR, and TDB, and everybody, wasn't afraid of apologising and holding themselves accountable for their actions, this whole situation could've been mitigated and maybe even avoided," Brunner says.
Hollywood isn't great at accountability. Whenever there are calls to hold a bad person accountable, no matter how talented they may be, the powers that be in the industry dismiss them as "cancel culture." Smith will have to answer for a slap for the rest of his career but god forbid someone says out loud that Louis C.K. face professional consequences for sexual misconduct. As for Wright, I hate that even in this piece, she has to share space with all of the aforementioned men. She doesn't deserve that. All Wright should be doing right now is basking in Wakanda Forever's incredible reviews and record-breaking box office numbers. She deserves to giggle about thirsty TikToks lusting after Shuri. She should be on magazine covers and have the freedom to tribute her friend and colleague, the late Chadwick Boseman, in peace. Letitia Wright deserves an apology and an awards season in which her name is never mentioned alongside horrible white men again.
Like what you see? How about some more R29 goodness, right here?
Wakanda Forever — Why [SPOILER] Had To Die
How Women Grapple With Grief In Black Panther