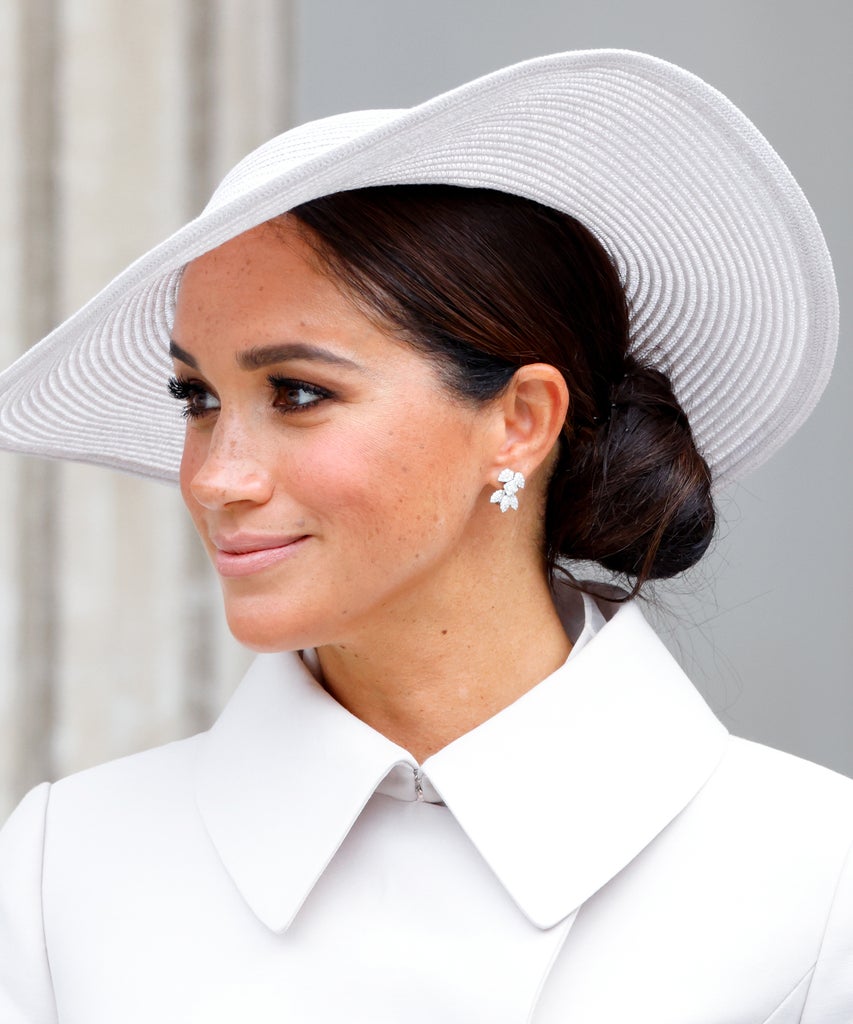 We've been here before: the royal family at the centre of a "race row" and a Black woman exasperated by it all. Ngozi Fulani, a Black domestic violence campaigner, knew exactly what Susan Hussey, the former lady-in-waiting to Queen Elizabeth II, meant when she repeatedly and insistently asked Fulani where she really came from earlier this week. Fulani, founder of the non-profit charity Sistah Space was in attendance at a charity event at Buckingham Palace when Hussey, Prince William's godmother, demanded to know where the British-born founder and "her people" actually came from. From Fulani's account, Hussey was not satisfied by the answer, "Hackney."
Fulani took to Twitter to detail the incident (including Hussey touching her hair to reveal her name badge) she describes as "overt racism" and left her feeling "uncomfortable" and "unwelcome." "I was almost forced to say that I'm not really British," says Fulani to The Guardian. "I don't know what she meant by 'my people'. It was incomprehensible for her to consider that I have British citizenship. When she heard my parents were from the Caribbean she said: 'Finally we are getting somewhere' … It was overt racism."
"Where are you really from?" is an old classic out of the wide spectrum of racist remarks intended to other and alienate people of colour. It's a question so loaded it's heavy; weighing down on dormant feelings of not truly belonging in the country you're born in. Acceptance in the UK can seem conditional when you're a minority, based on just how much you're willing to bow to Queen (now King) and country; Black British football players are worthy when scoring goals for England on a global stage but are quickly condemned, ridiculed and racially abused when they fail. Ngozi Fulani was deemed excellent enough to be invited by the Queen consort, Camilla, to the palace and still was made to feel she didn't belong.
Following the event, Fulani — who has dedicated much of her work to defending Black women against violence — hasn't stuttered once when stating that Hussey's remarks are racist, trauma-inducing and violent. "Here I am in this place as part of the 16 days of activism, experiencing non-physical violence – you feel like you have the right to approach me, put your hand in my hair and insist I don't have the right to British nationality," she told the Guardian. "In a space like that, what do you do?"
What do you do to challenge racism in spaces like that? We, of course, know what Meghan Markle did (and is continuing to do). As a biracial, divorced, American actor, Markle understands full well the feeling of otherness after marrying into the British royal institution — she already told us. We all remember Oprah's eyebrows leaving her forehead when Markle explained in that landmark interview how an unnamed royal questioned how dark her son would be. Markle has spoken openly and unambiguously about the racism she has received at the hands of the British tabloids, how she was "silenced" by the institution, the mental health issues she suffered as a result and, still, was met with a backlash so forceful and indignant by some members of the British public, it shook the rest of the world.
Before Markle and Prince Harry made a swift exit to the US to live out their independent lives, Markle played the part of dutiful duchess right down to her royal wave and was still made to feel like she didn't belong — sound familiar? The Duchess was instead, as one paper infamously dubbed her, "straight outta Compton."
Mixed feelings about yesterday's visit to Buckingham Palace. 10 mins after arriving, a member of staff, Lady SH, approached me, moved my hair to see my name badge. The conversation below took place. The rest of the event is a blur.
Thanks @ManduReid & @SuzanneEJacob for support🙏🏾 pic.twitter.com/OUbQKlabyq

— Sistah Space (@Sistah_Space) November 30, 2022
Now, it seems, that Markle is remaining strong in her vindication era. With timing so perfect it was almost delicious, Netflix released the trailer for Meghan Markle and Prince Harry's latest tell-all documentary just as the latest royal race row reached fever pitch. *chef's kiss*. "When the stakes are this high, doesn't it make more sense to hear our story from us?" says Markle in the teaser before a dramatic cut to black. It's clear the couple are not just allowing us to peer behind the curtain, they are busting the doors open. Markle's commitment to telling her story in her own words (Prince Harry's soon-to-be-released book Spare is also a testament to this) with little guarantee of acceptance from the royal family, in the face of some of the most visceral and acerbic white criticism some of the British public has to offer, is something to admire especially considering just how high those stakes are. Just recently, counterterrorism officials at the Metropolitan Police revealed that Markle was the target of "disgusting and very real" threats from the far right.
As it currently stands, Hussey has resigned and Buckingham Palace has officially apologised for the "unacceptable and deeply regrettable comments" made. The royal family has received a metaphorical pat on the back for their "ruthless efficiency" and quick response to Fulani's complaints (although, during an LBC interview on Wednesday, she claimed she has not been approached by an official representative).
"But Hussey is 83!" say those rushing to the royals' defence. Others claim the institution is learning from past mistakes and is luring out the bad apples as it attempts to modernise itself. But the "one bad apple" rule doesn't work when the entire institution is marred with a rotting racist foundation. And I suspect the royal family isn't enjoying the fact Markle, and other naysayers, have been given fresh evidence to support just how racist some members of royalty can be, especially now in its supposed "new era". This institution is not as far removed from its past as they'd like us to think.
"You can't, on the one hand, wang on about the Commonwealth and embracing the Commonwealth family, and yet people like us, the three of us, are treated as if we don't belong," says leader of the Women's Equality Party Mandu Reid to the Guardian, who witnessed Fulani and Lady Hussey's exchange at the Palace. "It's about the culture within the institution of the royal family," she adds. We've got a new king now who has a chance to actually signal that he wants to do something better, to do something different."
I'd argue that the royal family won't repair its institutional racism problem if it doesn't admit it has one (if at all possible — we all know it didn't begin and end with Meghan Markle either). Right now, the royal family remains in familiar territory; quickly distancing itself from racist accusations, instead of tackling the racism itself. Last year, Prince William told us "we're very much not a racist family" after Markle's accusations, to only have to release yet another statement following more racism accusations. The math isn't adding up.
It's near comical to think the country was not too long ago embroiled in sincere deliberation about whether the country has a systemic racism problem. The 2021 Sewell Race report would have had us believe Britain is no longer "deliberately rigged against ethnic minorities", only later for systemic racism accusations to spill out from the Metropolitan Police Force, London Fire Brigade, and, yes the royal family.
It should have never rested on Markle's shoulders to highlight the royal family's issues. Or Ngozi Fulani. The evidence was already there and well-documented. But what the latest race row has dredged up for Black British folks like me, is the idea of belonging — and the spaces where I know I can find a true sense of it. You can't gatekeep Britishness. I'll remember that the next time I'm asked, "where are you really from?"
Like what you see? How about some more R29 goodness, right here?
I Went Undercover In Meghan Markle Hate Accounts
Harry & Meghan's First Netflix Project Is Coming