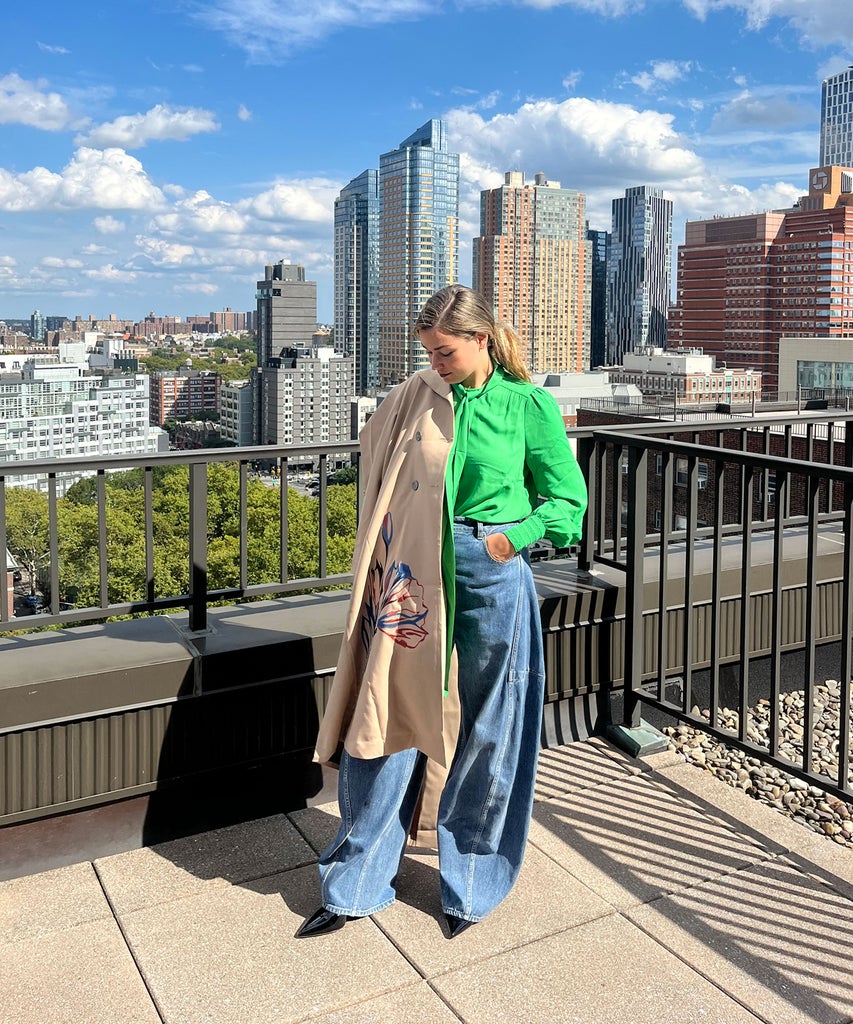 Skinny jeans are dead. Long live wide-leg jeans. While it's been a few years since TikTok labeled millennials' favourite denim trend "uncool," slouchy styles continue to rise in popularity, with cargo jeans, balloon pants, and other baggy pairs having appeared on the fall runways and fashion week attendees earlier this year.
If the word "wide-leg" still brings to mind the shapeless styles of the '90s or the comically flared bell bottoms of the '60s, know that today's most popular options combine the comfort of the oversized silhouette with tailored lines and fashion-forward shapes. See, for example, Tibi's Sid jeans, which I've been eyeing ever since the New York-based brand's spring '23 catwalk show. Featuring a loose fit and panel detailing, the jeans (that come in new colourways for fall and in petite and regular size options) taper into a balloon-like shape that gets tighter around the bottom, making them versatile enough to wear with casual sneakers and ballet flats as stiletto sandals and pointy-toe boots.
To prove that baggy jeans can work for any occasion, I wore the Sids for a week straight. The result? A regular spot in my capsule wardrobe rotation. While my pair, in classic blue, is currently sold out, you can find the look in black, as well as ivory colorway; leather fabrication; and acid and bleached washes. Ahead, how to style the wide-leg denim trend for fall.
How to Style Wide-Leg Jeans With a Blazer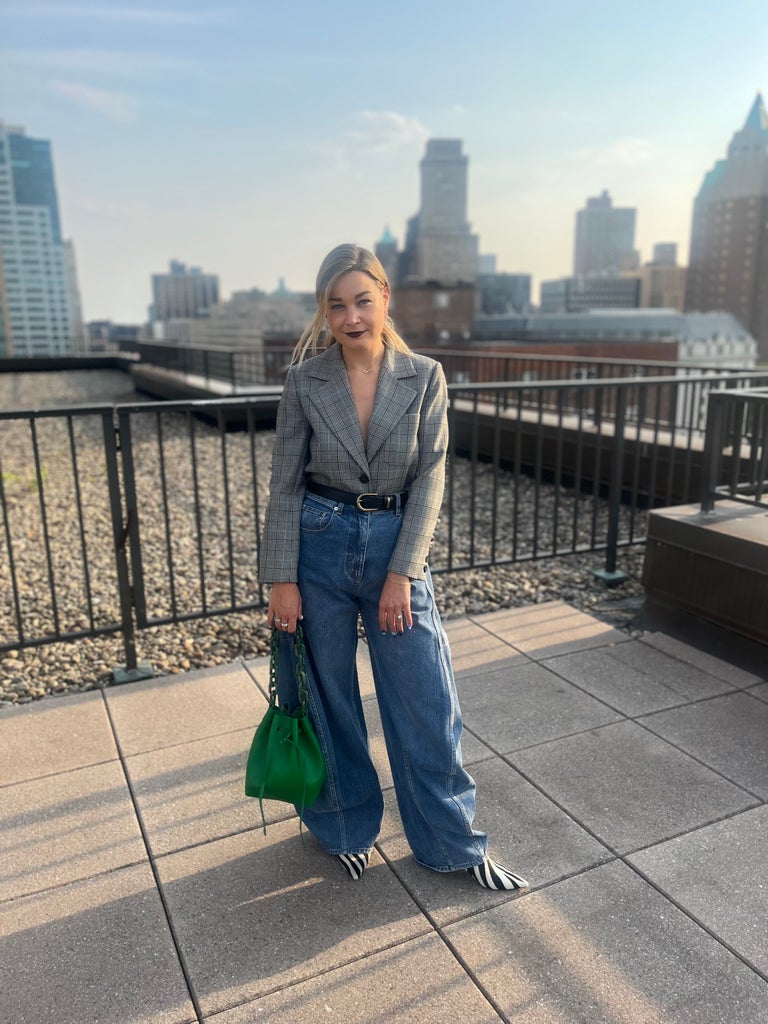 For a day at the office, I copied the styling from Tibi's runway show and tucked a transitional blazer into the waistline which I then belted. To make wide-leg jeans even more work-appropriate, pair the look with a pointy pump or boot. To avoid looking too corporate, I opted for a zebra-print mule and a colourful bag.
How to Style Wide-Leg Jeans With a Button-Down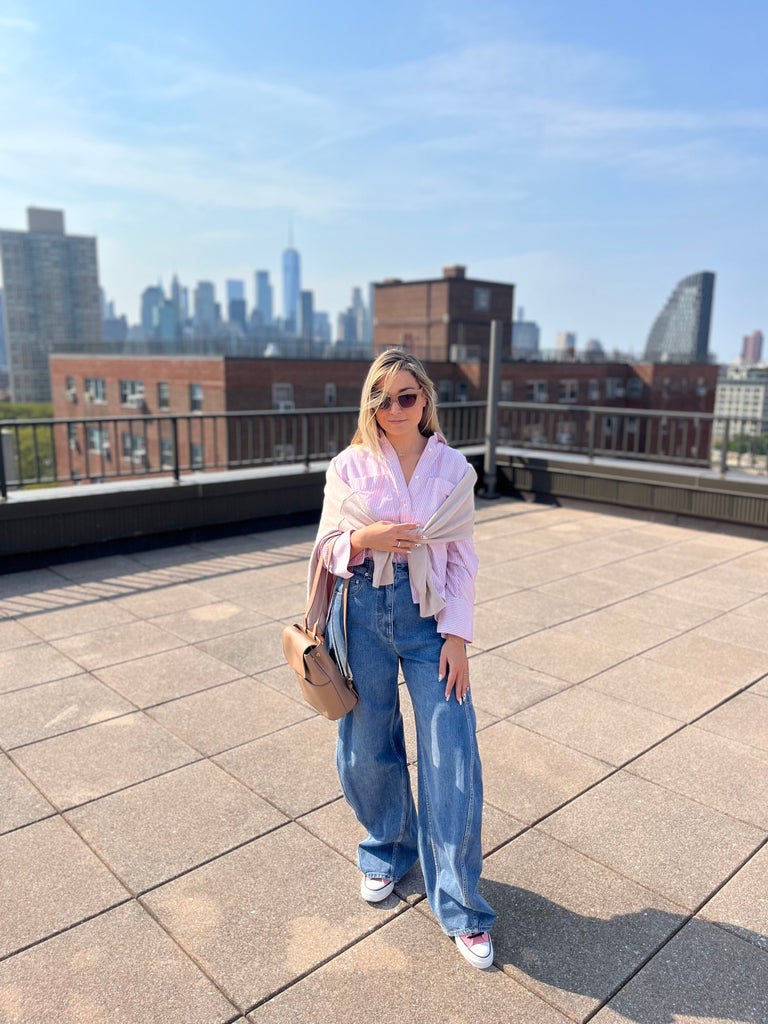 To run weekend errands, embrace the comfort of the loose silhouette (skinny jeans could never) and add to it with an equally oversized button-down, a buttery soft cashmere sweater, and a pair of reliable sneakers.
How to Style Wide-Leg Jeans With a Going-Out Top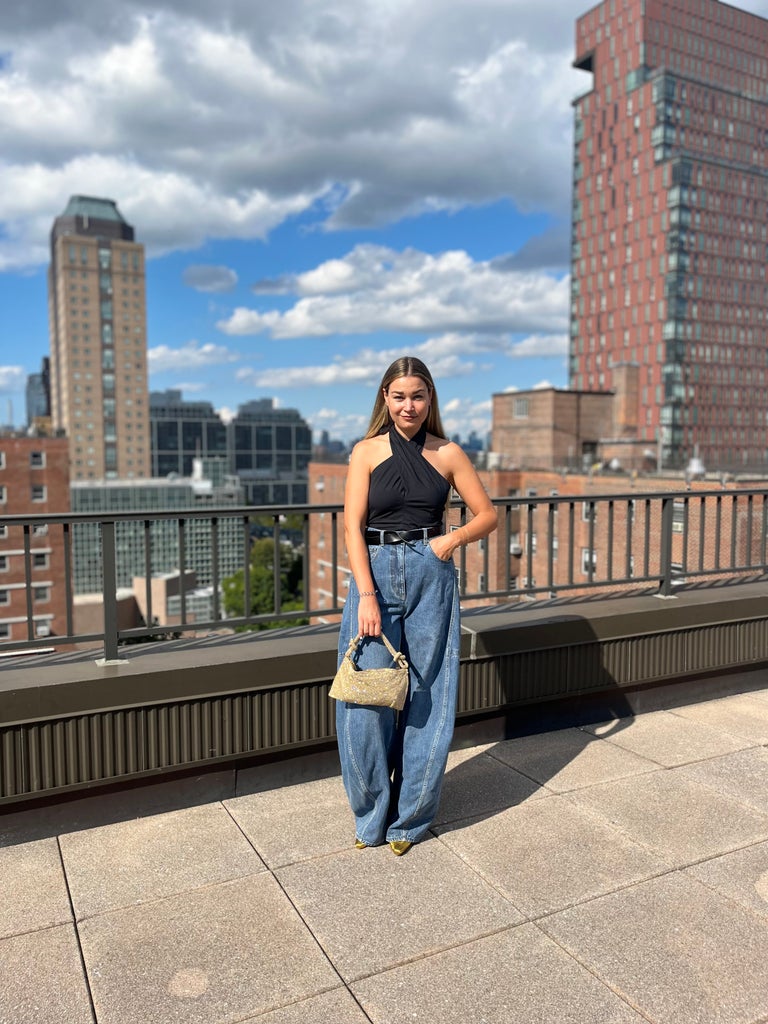 I am not big mini skirts or dresses, so I've been loving the comeback of the going-out top, which I took out for a spin with the denim. For a more festive feeling, complete the look with statement accessories like a sparkly bag and a fun shoe and top with a knit duster (I am currently on the hunt for a vintage one from Missoni) for those crisp autumn nights.
How to Style Wide-Leg Jeans With a Blouse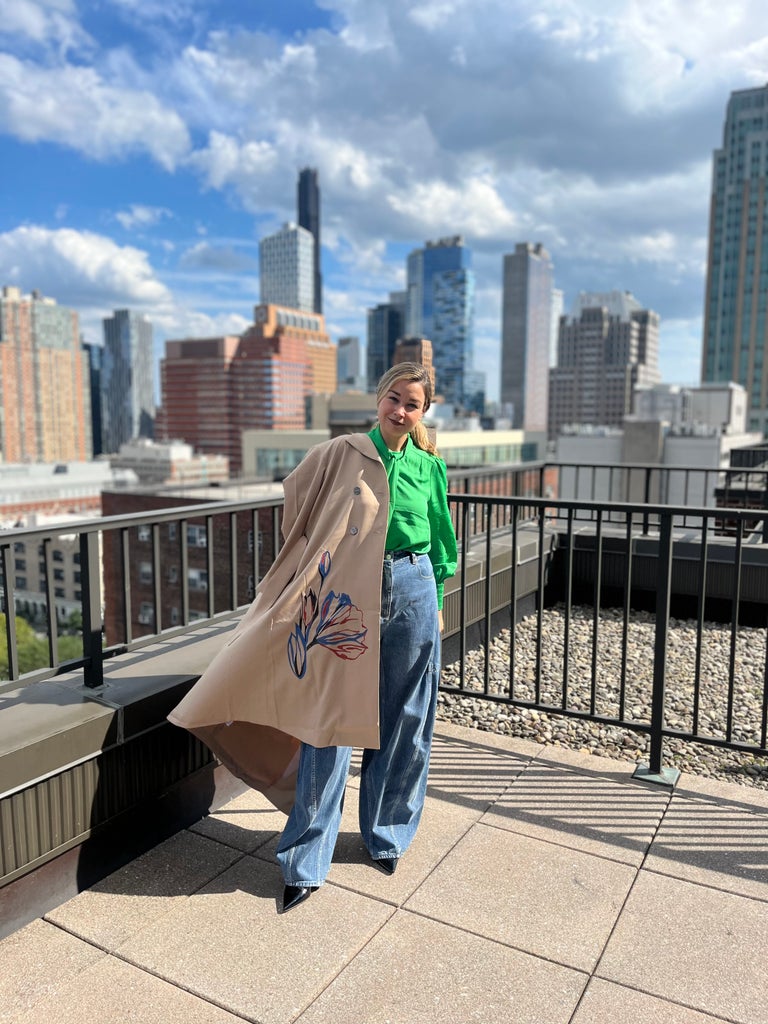 To elevate the wide-leg, baggy jeans for a nice dinner or special occasion, pair the utilitarian denim style with silky, luxe fabrics; feminine details like a pussy-cat bow and florals; and sharp "I mean business" footwear.
How to Style Wide-Leg Jeans With a T-shirt
I grew up in a time when low-rise, baggy jeans were all the rage. To nod to the style's throwback roots, I paired it with other favourites from the era (see: Prada nylon bag and cropped tee). To take the look into fall territory and give it a more grown-up feel, I topped it off with a leather bomber and chunky clogs.
Refinery29's selection is purely editorial and independently chosen – we only feature items we love! As part of our business model we do work with affiliates; if you directly purchase something from a link on this article, we may earn a small amount of commission. Transparency is important to us at Refinery29, if you have any questions please reach out to us.
Like what you see? How about some more R29 goodness, right here?
How To Style Your Cowboy Boots This Summer
How To Style Mermaidcore For Everyday Wear