My recent nail fixation has been the no-manicure manicure. Not bare, but natural. See, without any polish at all, my naked nails don't look great. They're thin, filmy, translucent, dull and speckled with tiny white flecks from times I've banged my nail and it left a mark.
Social media trends have been promoting bare, natural nails as of late, giving them viral-sounding names like "quiet luxury" nails or "clean girl" nails — both of which are definitely problematic, denoting class status or cleanliness to a person's nails. Questionable names aside, I still find myself influenced into seeking what they're selling: effortlessness.
Now, the way I see it, the quest for effortlessness in beauty is a part of this patriarchal system we live in. It takes effort. If I want my nails to look totally bare, why not just leave them alone? That would save both time and money. Instead, I book a monthly appointment to get them shaped and glossed with a shade of nail polish that will be sheer enough to pass as natural. It's a beauty standard for sure, but I can unpack that — along with my desire for "natural" lashes (which I tint) and "natural" bronze (not from the sun but a Tan-Luxe self-tan) — in therapy for years to come.
What is the muted French manicure?
Back to the nails in question. This week, I booked in for my most recent manicure — I visited Glosslab's Flatiron location in NYC — on a quest for a variation on a "quiet luxury"-esque nail people are calling the "muted French" manicure. You may have also heard it called the "modern French," which is essentially the same thing: a toned-down, more subtle version of a French manicure. This Pinterest image served as inspiration. It has also been one of the most searched for nail looks on Google Trends in the last 30 days.
How do you achieve the muted French manicure?
So how do you take the French manicure and make it muted? It's in the polish selection. I picked a base colour in a sheer pink that looked like my skin but slightly pinker. The exact polish is CND Backyard Nuptials, £13.95. Reviewers describe the shade as a "translucent look with the perfect amount of coverage," and "perfect if you want a clean look."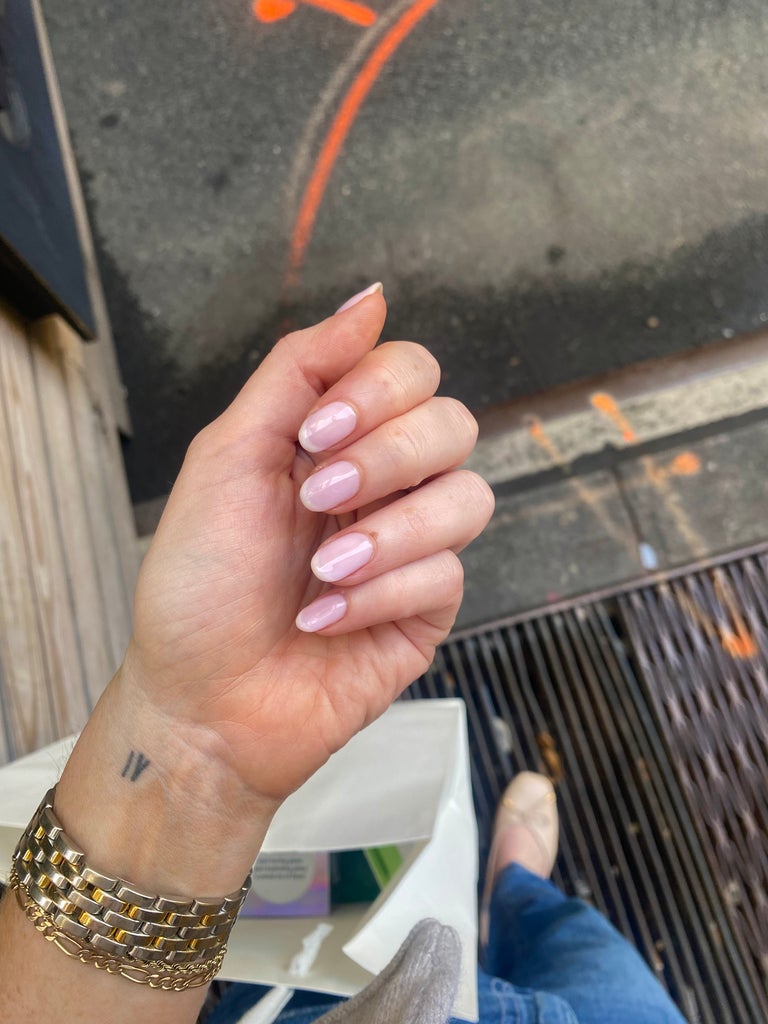 Because it's a French manicure, there's an alternate shade striped across the tip of the nail. This is important: It's not usually bright white. Instead, I grabbed a sheer, almond milk-tinged white shade called CND All Frothed Up, £13.95. "You know this isn't white?" my artist commented before painting on the tip. However, the combo of sheer pink with an off-white hue created exactly the muted French look. The difference between the tones is almost undetectable. But you know when your nail grows past your finger, the tip looks lighter because there's no skin underneath? That's the role of the off-white polish. So what the design really achieves, in my opinion, is the illusion that my nails are not painted at all.
Really, this is a gel manicure made to look like it's not.
At Refinery29, we're here to help you navigate this overwhelming world of stuff. All of our market picks are independently selected and curated by us. All product details reflect the price and availability at the time of publication. If you buy or click on something we link to on our site, we may earn a commission.
Like what you see? How about some more R29 goodness, right here?
I Had A Ukrainian Manicure & I'll Never Look Back
5 Top, Autumn Manicure Trends According To TikTok