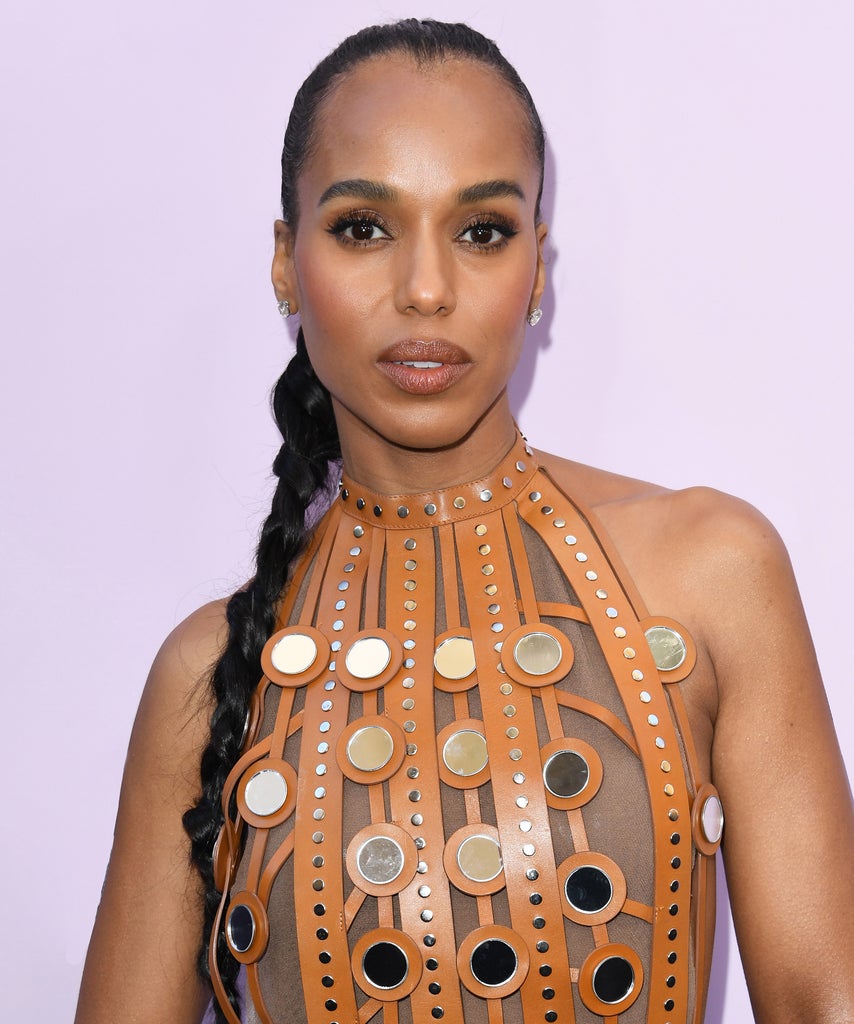 Kerry Washington usually has a glam squad to thank for her countless stunning red carpet events or television appearances. But lately, she's proven that she's got the makeup skills to pull off equally glamorous looks at home.
This week, the Little Fires Everywhere actress and producer greeted a group of smiling editors (including me) via Zoom to introduce us to the newest additions to Neutrogena's Hydroboost range. While the self-proclaimed science nerd, who is the face and creative consultant for the brand, geeked out over the latest product technology, I was internally fan-girling over how incredible she managed to look through her computer screen.
Washington told us that she pulled off her perfectly contoured skin and nude lipstick thanks to a FaceTime consultation with her longtime makeup artist Carola Gonzalez. Adapting to Gonzalez's digital direction has become the new norm for Washington, who has been doing her own makeup for projects at home. "I've learned to honour makeup artistry," she says to me during our one-on-one call. "There are so many things I've never paid attention to — like brushes — and doing it myself makes me appreciate the art while still having fun."
On the surface, it seems like a glam beauty routine comes naturally to Washington. But the actress revealed to me that she finds it difficult to prioritise self care — and the ongoing pandemic and nationwide social unrest has put that into sharper focus. "During this pandemic, I've learned that many of my beauty rituals are attached to showing up for other people," she explains. "Because of the nature of my job, I was moisturising and putting on mascara for the red carpet, but not for Kerry."
Taking a step back has allowed Washington to savour these moments for herself. "It's been good to let stuff go, to let my skin breathe, to focus on caring for me on the inside out," she says. "It feels good to paint my nails or throw on red lipstick because I want to and not because someone will write about it or for a character."
Washington says that self-care has also been a critical part of actively sustaining her mental health as a Black woman, especially now. "I do believe that, for Black women, self-care being a radical act has never felt more true than now," she says. "How can I be of service to the movement, to my work, to parenthood if I am not valuing my own Black life?"
It's why Washington says there is no better time to embrace and celebrate Black beauty. "To acknowledge our beauty right now is important because systemic racism and oppression have long taught us not to," she says. "We've been taught to reject our skin, our features, and our curls, and saying 'no' to those ideals right now is powerful." The actress has embraced more makeup-free and natural-hair days, but makes it a point to highlight the power of choice. "A blow-dry and press is fun, too, but I can also wear my curls with freedom," she says.
It's also why Washington takes her role as a creative consultant for a mass-market beauty brand like Neutrogena very seriously. "Black women matter in these spaces because we can say, sure, we saw your hashtag, but how are you really serving us?" Washington has advocated to ensure that Neutrogena prioritises inclusive testing, thorough research, and education so that products work across skin tones and serve the underserved. "It's not just about making products look good in campaigns or on shelves," she says. "It's about researching and developing products that are safe and making them effective and accessible to everyone."
Refinery29's selection is purely editorial and independently chosen – we only feature items we love! As part of our business model we do work with affiliates; if you directly purchase something from a link on this article, we may earn a small amount of commission. Transparency is important to us at Refinery29, if you have any questions please reach out to us.
Like what you see? How about some more R29 goodness, right here?
My Skin, Two Years After Giving Up Moisturiser
Little Fires Everywhere Has SO Many Beauty Secrets