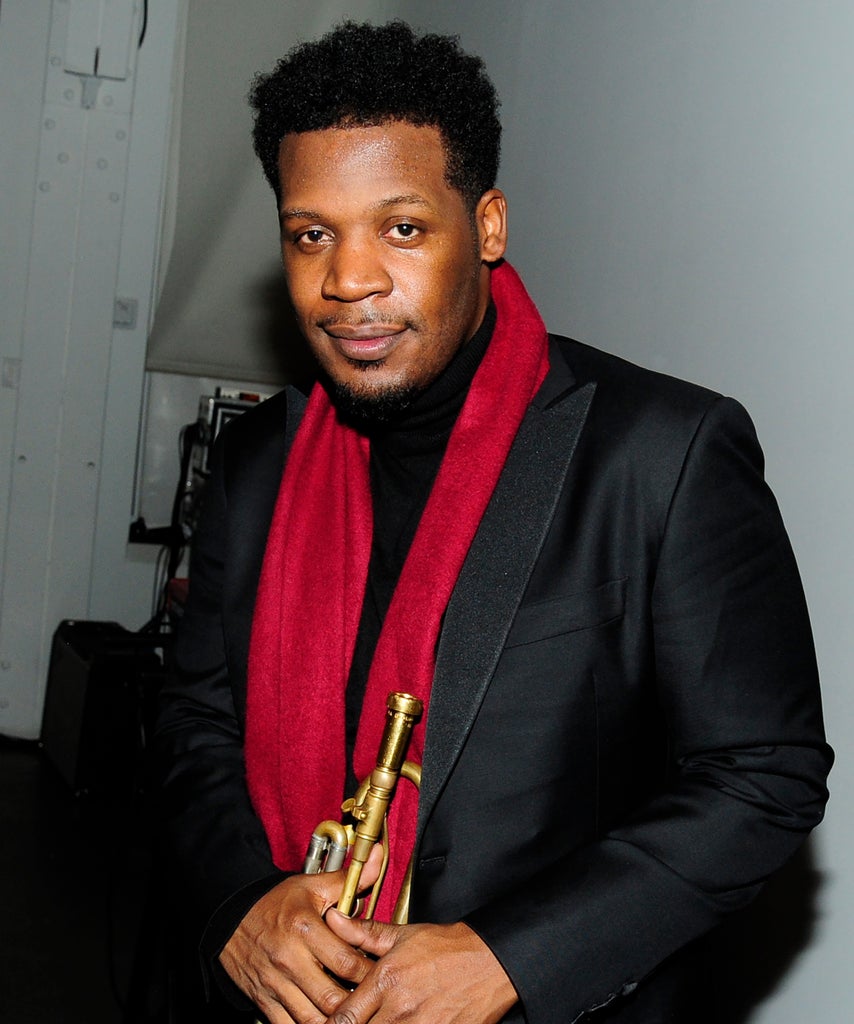 This weekend, award-winning jazz trumpeter Keyon Harrold and his 14-year-old son were on their way to brunch at the Arlo, a boutique hotel in Manhattan where they were staying as guests. Harrold and his son, who are both Black, were suddenly accosted by an unidentified white woman in the lobby. But what ensued was much more than a confrontation between a father and son and a stranger — it was yet another example of the endemic culture of racism and white privilege in America.
"Show me my phone!" the woman yelled, accusing Harrold's teenaged son of stealing it. "Are you kidding me? You feel like there's only one iPhone made in the world?" Harrold can be heard saying in a short video he filmed of the altercation that he later shared on his Instagram. The hotel's manager quickly stepped in, but in support of the woman asking that he also see the teen's phone.
"This is my phone," says the teen as the woman frantically demands that the hotel manager confiscate the phone to prove who the phone belongs to. Despite Harrold explaining that they'd only just come down the elevator, the woman and the manager would not back down. When Harrold and his son, shocked by the hotel staff's compliance, tried to leave the area, the woman allegedly lunged at them and tackled the teen attempting to search his pockets. Shortly after, the woman found her phone, and it was nowhere near Harrold or his son. She left it in an Uber.
In the days since the altercation, Harrold's video has gone viral, igniting two separate investigations by the New York Police Department and the Manhattan district attorney's office, as well as the outrage of the internet for what many are describing as the woman's weaponisation of her privilege — putting a young Black teen in danger with a baseless accusation, something we are all too familiar with seeing.
"I am furious!!!" Harrold wrote on his Instagram when he posted the video. "We see this crap happening all the time, but it hits different when it hits home!!! I typically try to keep things positive, but nothing about this video is positive." But this isn't just about the one woman and her empty accusation. Harrold believes the actions of the manager empowered the woman's fury when he attempted to use his authority to force his son to hand over his phone simply because someone else claimed it was theirs.
The teen's mother, also a successful musician who has worked with Beyoncé for over a decade, later commented on the incident via Instagram. "The most painful feeling today as a parent was to feel helpless in protecting my child against racial hatred," Katty Rodriguez wrote.
The next day, the Arlo Hotel issued a formal apology saying that the manager could have done more to "de-escalate the dispute." Rodriguez told The Washington Post that they shared the video online after hotel security let the woman leave while they waited for police. She also offered her opinion of the hotel's apology saying that they did not make a statement until after they were heavily criticised on social media. Refinery29 reached out to the Arlo Hotel, but they had not responded by the time of publication.
Harrold's post is yet another viral documentation of racial profiling, not too dissimilar from earlier incidents like in May when a white woman called the police on a Black man who was birdwatching for simply asking her to put her dog back on a leash in Central Park. She claimed he was threatening her, but his video proved that not to be the case. And while both Cooper and the unnamed woman who confronted Harrold did not end up causing physical harm in this altercations, they certainly could have. In both scenarios, had they not been filmed, it's more likely that police would have — and could have — blamed two innocent Black men for just existing in the same space. Or worse.
In a statement from Harrold, made through civil-rights attorney Benjamin Crump, he said he wants the district attorney's office to charge the woman with assault and battery as well as conduct an investigation into the hotel "for its implicit bias." The NYPD also confirmed with Buzzfeed News that a formal harassment complaint has been filed. In a statement to Intelligencer, the district attorney's office said that they intend to thoroughly investigate the incident. As of Monday, police have not yet identified the woman in the video, reports The Cut.
"As this year of racial awareness is drawing to a close, it's deeply troubling that incidents like this one, in which a black child is viewed as and treated like a criminal, continue to happen," Harrold said.
Like what you see? How about some more R29 goodness, right here?
'Mangrove' Shows Racism In The UK Hasn't Changed
Does Netflix's Bridgerton Have A Race Problem?